Fiddle with fire and you'll get burnt.
The EU, as I have said before, is filled to the brim with weak kneed totalitarians, in the end, they'll succumb to the Turks demands, and Finland's FM, Erkki Tuomioja can then relieve his conscious about his not having done enough to secure Turk admittance to the Eurotopian club while Finland held the EU's fake presidency.
H/T Fjordman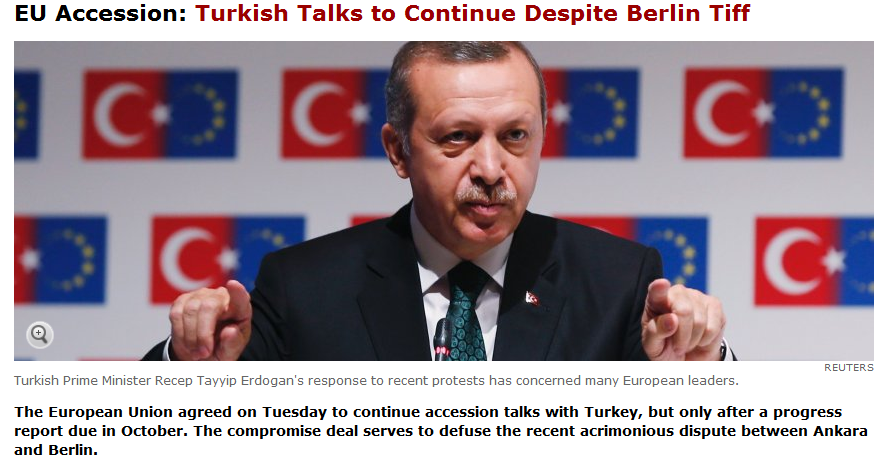 At first glance, it sounds like a typical European compromise. European Union ministers agreed on Tuesday to resume accession negotiations with Turkey, though they opted to delay the talks until October. And Turkish Foreign Minister Ahmet Davutoglu welcomed the decision, telling reporters that "a hurdle standing in the way of relations between the EU and Turkey has been overcome."
In reality, however, the decision reached on Tuesday represents only a temporary resolution to a growing conflict between Ankara and Berlin that has threatened to significantly damage Turkey's relations with both the European Union and Germany.
The reopening of accessiontalks between Brussels and Ankara had originally been scheduled for this Wednesday. But ongoing protests against Turkish Prime Minister Recep Tayyip Erdogan in Istanbul, in combination with his government's forceful attempts to put a halt to the demonstrations, have raised eyebrows in European capitals. Furthermore, comments by Turkish Minister for European Affairs Egemen Bagis, in which he was sharply critical of German Chancellor Angela Merkel, did little to increase willingness in Berlin to rush back into accession negotiations.