Says he loved his brother, says he's innocent, inheritance money not a factor…..!
Not looking good for Zaid however, a million dollar feud mixed with dueling Muslims, my bet is that he had him murdered and the rest to avoid being witnesses.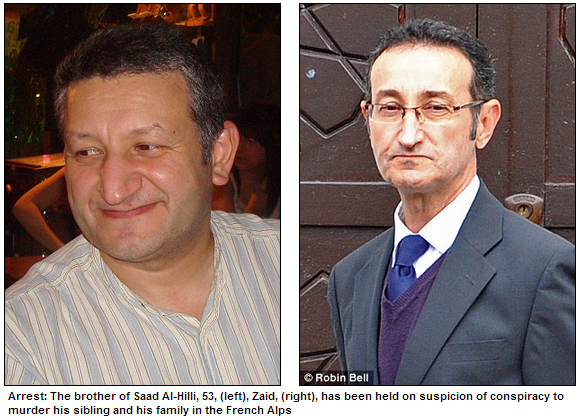 I didn't hire a hitman: Brother of Alps massacre victim is arrested over £1million murder plot, but pleads his innocence and says, I loved him
Zaid Al-Hilli was today held by Surrey Police in connection to the shooting

Saad Al-Hilli, his wife Ikbal and her mother Suhaila al-Allaf were all killed

Cyclist Sylvain Mollier was also shot dead near Annecy in September 2012

Officers pictured taking bags of evidence out of Zaid's home

French prosecutors want to talk to Saad's orphans, who survived massacre

Police across Channel also claim Mr Al-Hilli was 'living in fear' before death

By ARTHUR MARTIN, CHRISTIAN GYSIN and NEIL SEARS
PUBLISHED: 10:07 GMT, 24 June 2013 | UPDATED: 23:57 GMT, 24 June 2013
The brother of one of the French Alps massacre victims has denied hiring a hitman to kill the family over a £1million-plus inheritance feud.
Accountant Zaid al-Hilli, 54, was arrested at his home in Surrey yesterday morning on suspicion of conspiracy to murder.
His brother Saad al-Hilli, 50, was killed in a gun attack in France that left three others dead and Saad's daughters Zainab, eight, and Zeena, five, orphaned.
More here. H/T: EDL Buck