Multiculti Sweden revealed. 
Jews of Finland no doubt are keeping a sharp eye on what is happening in Sweden and in Norway. Also, since Finnish Jews are predominantly Swedish speakers, Jews of Sweden would be welcome here. The more the merrier I say.
H/T: Ram Lubranicki
So how do us Swedish Jews move forward?  In recent years the response within the Jewish and Zionist population in Sweden has been changing toward more open posturing.  When I was growing up in Sweden in the province of Dalarna my parents and grandparents told me to keep quiet about my Jewish background. I didn't know any Jews my age until I was 23 years old when I moved to a larger city to attend Uppsala University. Today more and more Jewish Swedes are "coming out" as Jews and Zionists.  Also encouraging is an increase each year in pro-Israel bloggers and activists.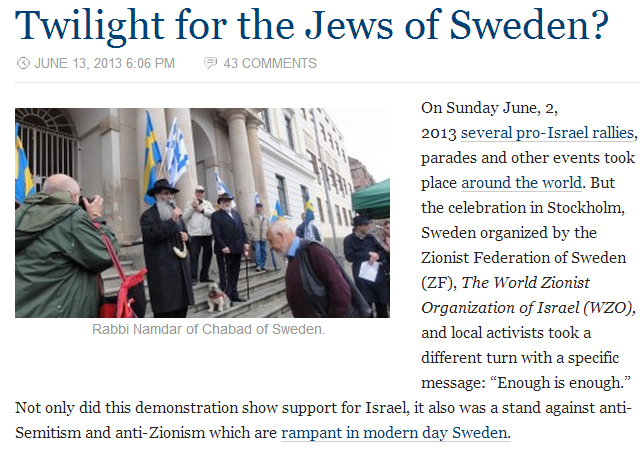 We have seen an increase in reported anti-Semitic attacks but no charges, arrests or convictions. Nor have any leading politicians shown any concern. Angry anti-Israel demonstrators can shout their message of hate freely, while peaceful pro-Israel rallies are surrounded by police. Jews routinely hide their Magen David necklace's under their shirts and remove kippahs as soon as they exit shul. This is the reality of Sweden in 2013.  Exlemplary of the dangers posed to Jews, one report said that  "the Jewish communities spend at least 25 per cent of their funds on security  measures."
In May 2013 Malmo, Sweden hosted the "Eurovision Song Contest," a European tradition for more than fifty years. Much like the Olympics it seeks to unite nations peacefully through music. The theme of this year's contest was "We Are One." But the focus wasn't all-positive since the event was held in the city of Malmö, which is well known for anti-Semitism.
During the song fest, there was a large anti-Israel demonstration in which Daniel Sestrajcic, chairman of Malmö's municipality's culture committee , was a keynote speaker. Typical for Sestrjcic, he spewed anti-Semitic remarks. Departing from the theme of "We Are One" Sestrajcic stated that "Israel would be welcome back when Palestine is free" and that "together we shall get this State (Israel) to fall." His tirade was aimed strictly at Israel. He made no mention of states that participated in the contest which have been cited for human rights violations.