The Democrats really do want pad their ranks with new Mexican 'citizens'.
It's part of Obama 'fundamentally transforming of America' agenda. The move for amnesty would set the U.S. on a permanent course with Democrat party dominance of Washington for decades to come.  It would usher in Obama-like administrations on a regular basis as the supposed 'have not' minorities would vote for the populist demagogues of the Democrat Party, redistribution of wealth as the economy imolodes while the welfare expands. The US will never recover.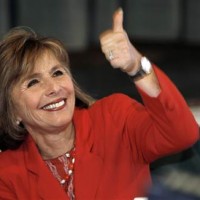 Senate Dem. Boxer Proposes to Scrap Border Security to Fund Immigrant Healthcare
Senator Barbara Boxer (D-CA) has offered an amendment to the comprehensive immigration bill that would strip border security funding and redirect it to healthcare benefits for future Democrat voters "undocumented" immigrants. The Los Angeles Times reported:
Sen. Barbara Boxerplans to push for Washington to provide $250 million and perhaps more to help local and state governments pay the cost of healthcare to uninsured immigrants who seek legal status under legislation now before the Senate.

Officials from Los Angeles County–home to an estimated 1.1 million people in the country illegally, one-tenth of the nation's total–have expressed concern that local taxpayers will be "left holding the bag" to pay for the healthcare costs.