Beyond the pale.
First of all, no one, and I mean no one, has the right to lay a hand upon anyone, in order to prove a political point. The people who committed the act deserve condemnation and should answer for their crimes, the politicians who foisted mass immigration (of people from Islamic countries) upon the public deserve equal condemnation and should answer for their crimes as well.
NOTE: As for the burka, it's a security/safety risk and has no place in public.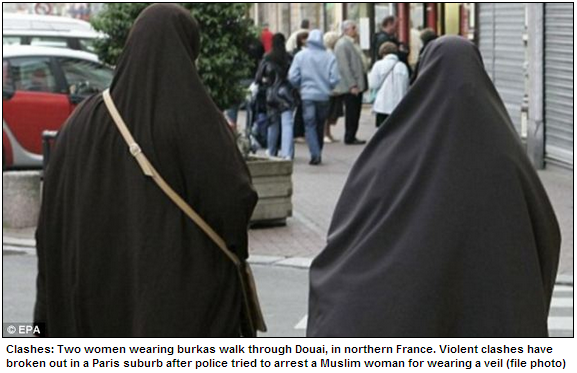 France's burkha ban sparks violence across Paris after police try to arrest woman for wearing a veil and pregnant woman is attacked for covering her face
Two men put pregnant woman, 21, in hospital – undergoing treatment

Around 60 people attacked police in Argenteuil, north west of the capital

Women guilty of wearing niqabs can be fined the equivalent of around £130
By NABILA RAMDANI
Violent clashes have broken out in a Paris suburb after police tried to arrest a Muslim woman for wearing a veil.
It came as two men today put a 21-year-old pregnant woman in hospital for covering her face with a veil on the same council estate. 
In what is being viewed as a severe test of France's burka ban, around 60 people attacked police on Wednesday night in Argenteuil, a commuter town to the north west of the capital
But when officers approached the unnamed woman, passers-by became involved in a 'riot' and police used tear gas and flash-ball shots to disperse them, according to a police source. 
'The police were attacked' the source told Le Parisien newspaper. 'They were insulted and beaten, including punches'.
Two men aged 23 and 37, including a cousin of the young veil-wearer, were arrested and placed in custody under suspicion of violence and public order offences.

In the end, 40 riot police had to be called to the area to restore order, said the source. 

Affront: Nicolas Sarkozy had described Muslim face coverings as an affront to the principles of the French Republic
Today, the 21-year-old was attacked in Argenteuil, with 'two shaven-haired men tearing the veil from her face and pulling her hair,' said a police source close to the case. 
She was rushed to the emergency ward of Argenteuil hospital where she underwent treatment for unspecified injuries.
Police said that the men had shouted racist insults at the girl, saying that the veil was no longer acceptable in France. 
The attack may have been caught on CCTV, said the police source. 
In a third incident, police confirmed that a 17-year-old, identified only as Rabia, was attacked in Argenteuil on May 20th for wearing a veil.
Two men beat her up at around 9pm, shouting 'Dirty Arab' and 'Dirty Muslim' while laughing. 
Rabia said afterwards: 'One of them insulted me. I sped up not because I was scared, but the men turned around, one of them tore my veil, pushed me to the ground and them hit me while insulting me.'