The simple answer should be, no to the arming of these animals by any Western state.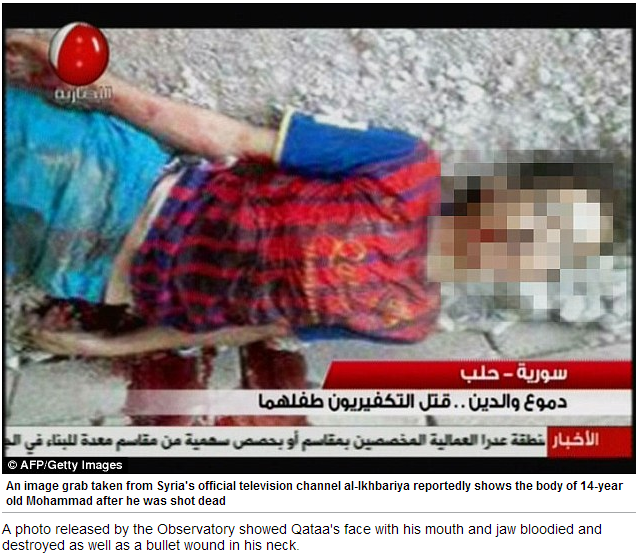 Should Britain be supplying arms to these people? Syrian Islamic group shoot dead 14-year-old in front of his parents for insulting the Prophet
Mohammad Qataa was shot in the face and neck by Al Qaeda-linked gunmen

Teenager was heard arguing while working as street vendor selling coffee

Said: 

'Even if Prophet Mohammad comes down, I will not become a believer'

Insurgents f

ired two bullets from an automatic rifle in view of the crowd

Britain has been looking to lift embargo on shipping weapons to rebels

Twin suicide blasts kill at least 14, including police officers, in Damascus

By SIMON TOMLINSON
PUBLISHED: 07:46 GMT, 11 June 2013 | UPDATED: 12:03 GMT, 11 June 2013
Members of an Al Qaeda-linked Islamist group in the northern Syrian city of Aleppo executed a 14-year-old boy in front of his parents on Sunday as punishment for what the group regarded as a heretical comment, the Syrian Observatory for Human Rights said.
Mohammad Qataa was shot in the face and neck a day after being seized, said the pro-opposition monitoring group, which is based in Britain and uses a network of observers across Syria.
'The Observatory cannot ignore these crimes, which only serve the enemies of the revolution and the enemies of humanity,' said the group's leader Rami Abdulrahman.