American servicemen and women died defending this piece of crap regime? Should have left it to Saddam. The blood of our military is worth more than gold, and should only be risked being shed in the service of real freedom and liberty.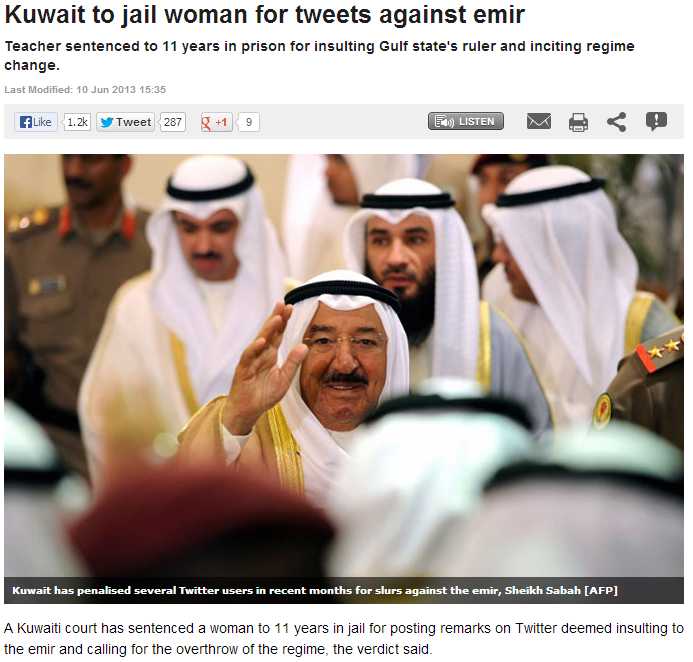 Huda al-Ajmi, a 37-year-old teacher, on Monday received the longest known sentence for online dissent in the Gulf state.
She was convicted of insulting Sheikh Sabah al-Ahmad al-Sabah, calling for the overthrow of the regime and misusing her mobile phone, according to a copy of the lower court ruling obtained by the AFP news agency.
Mohammad al-Humaidi, the director of the Kuwait Society for Human Rights, confirmed the verdict on Twitter, the popular micro-blogging website.
Ajmi has not yet been taken into custody and can appeal the sentences, Reuters news agency reported.
It is rare for a woman to serve jail time for political crimes in Kuwait, which allows more freedom of speech than some other Gulf states. Previously, Kuwaiti courts had sentenced at least two female activists to lighter jail terms but suspended the implementation.
Ajmi is the latest in a growing list of tweeters and former-opposition parliamentarians to face trial or receive jail terms for allegedly insulting the emir, described as "immune and inviolable" in the constitution.
The political trials have drawn rebuke abroad and anger at home.