There used to be a time when one just hunkered down, stoically enduring some discomfort, for the moment, then continue on. Now it seems as if they neutered men of Sweden can't wait to try 'skirting' discomfort any way they can, if includes wearing a skirt, then so be it.
NOTE: Then they wonder why misogynist Muslims are having such great successes with their women (outside of raping them of course).
H/T: EDL Buck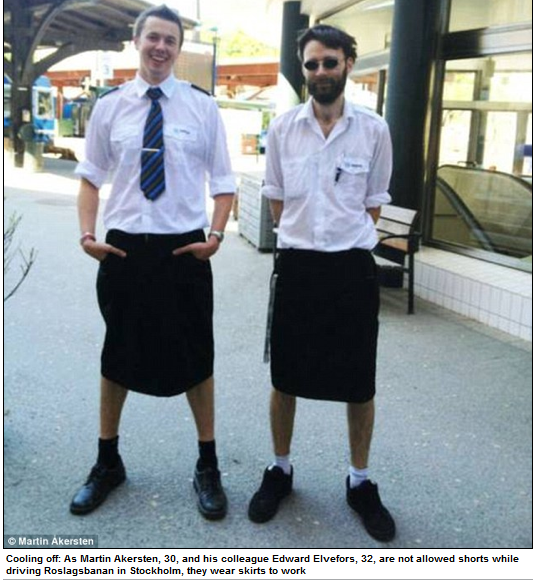 Male train drivers in Stockholm wear skirts to keep cool after shorts ban
Train drivers' uniforms banned shorts, only allowing trousers and skirts

So a dozen male drivers at Stockholm train company went for the skirts

Company Arriva says as long as they stick to the uniforms, they are fine
By SARA MALM
PUBLISHED: 00:50 GMT, 9 June 2013 | UPDATED: 00:50 GMT, 9 June 2013
Male train drivers in Sweden have found a novel way to work around a shorts ban during the summer months – by wearing skirts.
Drivers on the Roslagsbanan line north of Stockholm are required to wear long trousers or skirts to work and shorts are not allowed.

As a result, a dozen workers have been working in skirts to keep cool during the summer months when temperatures in their cabins can hit 35 degrees.