I really do wish these sane Turks all the luck, knowing at least one of them involved in the demos, I can say that they do indeed exist. I fear however, just as Sheik Yer'Mami has mentioned time and again, this is all too little too late. The military, the once bulwark of secularism, has been undermined by the ruling AKP, and the overwhelming majority of Turks (living outside of the main cities, favor the AKP. It's a simple weight of numbers and tardness.
H/T EDL Buck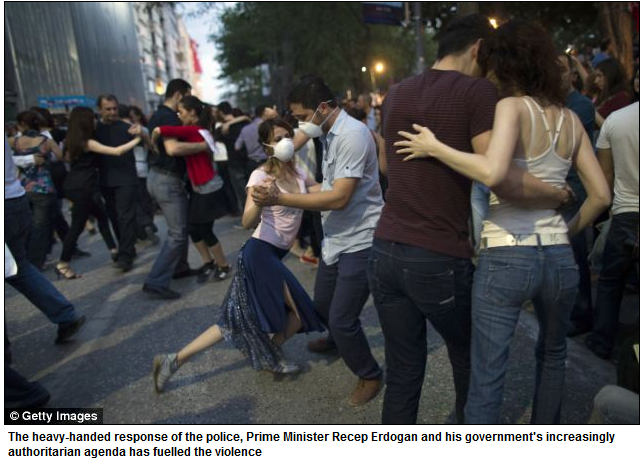 Turks tango in their gas masks as they defy orders of Prime Minister and carry on with protests
Demonstrations continue in Istanbul on Saturday


Leader Recep Tayyip Erdogan blasts 'hypocritical' criticism of country's use of gas

He says other nations including America have used it to disperse protests
By DAILY MAIL REPORTER
PUBLISHED: 15:10 GMT, 8 June 2013 | UPDATED: 16:43 GMT, 8 June 2013
urkish leader Recep Tayyip Erdogan labelled Europe and America hypocrites as protesters continued their anti-government demonstrations by dancing the tango in gas masks.
A day after calling for both opponents and supporters to 'go home' and end the mass protests continuing across the country, the Prime Minister launched a broadside at countries who criticised the police's use of tear gas.

He asked 'where was the outrage over tear gas' used to disperse Occupy protesters in the US.