This is what happens to any people who develop a slave-like mentality to a political entity, they'll fall in line with just about anything.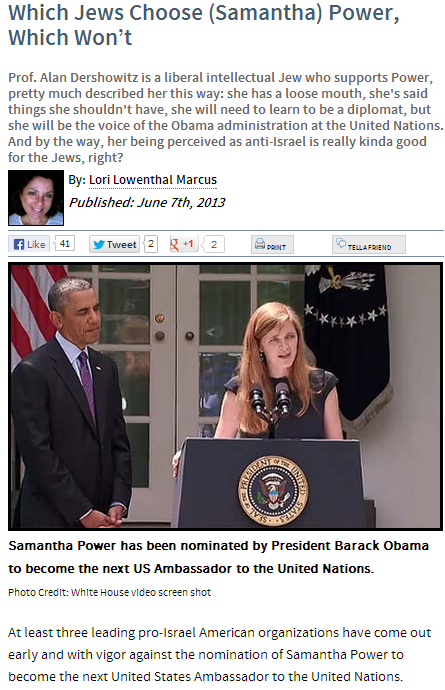 The non-partisan Washington D.C.-based Endowment for Middle East Truth, a self-described think tank and policy shop, issued a statement deploring the nomination on Tuesday, June 4,  the same day that the Republican Jewish Coalition did.  The Zionist Organization of America, the oldest Zionist organization in America, was the first out of the starting gate with its long, detailed, public opposition to Power's nomination on Monday June 3.
And on the other side of the ring we have perhaps the most famous and famously wealthy Jewish organization, the Anti-Defamation League, Harvard Professor Alan Dershowitz and rabbi to the Stars and former congressional candidate Shmuley Boteach, all of whom are publicly placing their heckshers on Powers.
The Republican Jewish Coalition said Power "has a record of statements that are very troubling to Americans who support Israel."
"In 2008, as an academic who taught at Harvard's Kennedy School of Government, Samantha Power suggested  that the U.S. should invade Israel militarily to impose a settlement to the Israeli-Palestinian conflict and protect "a new state of Palestine." Her writing and public appearances reflected her views that special-interest lobbies in this country (read, the "Israel lobby") have too great an impact on our foreign policy in the Middle East," RJC Executive Director Matt Brooks said in a written statement. "She must respond to the strong doubts about her views raised by that record. Senators should also examine her tenure as head of the President's Atrocity Prevention Board to see what results, if any, came out of her time there."
ZOA National President Morton A. Klein said, "The ZOA is deeply concerned about and opposed to the nomination of Samantha Power as U.S. Ambassador to the United Nations. The overwhelming evidence of her entire record causes us great fear and concern as to her appropriateness for this post. Ms. Power's record clearly shows that she is viscerally hostile to Israel, regards it as a major human rights abuser, even committing war crimes, and would like to see the weight of American military and financial power go to supporting the Palestinian Authority, not Israel. In contrast, she has spoken of Iran as though it scarcely poses a problem. She also strongly suggested that the U.S. cease worrying about alleged Jewish power and money which allegedly forces the U.S. to support Israel and which allegedly is not in the national interest.
"Samantha Power is clearly the wrong choice for UN Ambassador, particularly at this sensitive juncture in history," EMET's President and Founder Sarah Stern wrote in a press release.