Norway is the mental patient of Europe.
At the main 1st of May celebration in Oslo, Salma Abudahi, from the Gaza's Union of Agriculture Work Committees (UAWC) spoke, appearing directly before the speech by Prime Minister Jens Stoltenberg. Under the heading "Support the state of Palestine – Boycott Israel," Abudahi called rockets a "symbol of resistance" and said that occupied people have a right to defend themselves. "It is important," said Abudahi, "to understand the proportions. The Israelis are killing our loved ones all the time."
BUT WAIT, THERE'S MORE HATE: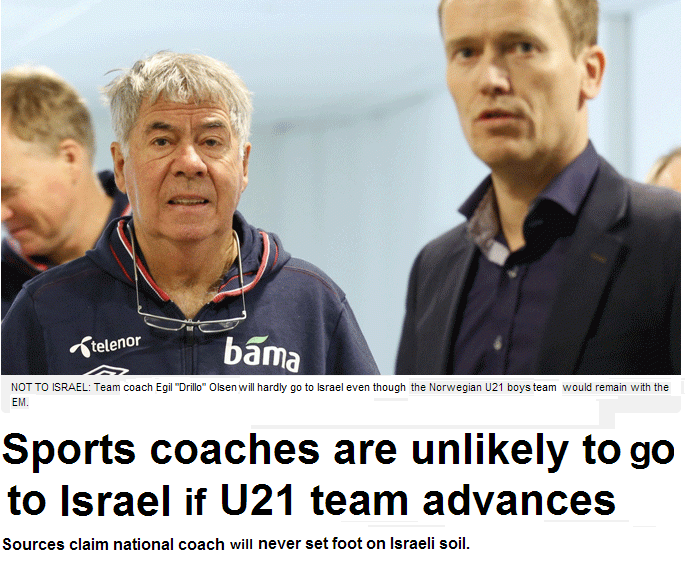 Only days after Norway is finished with its two A-caps respectively towards Albania and Macedonia, the U21 boys can still be included in the European and national team coach Egil "Drillo" Olsen can then head down to Israel to refine the Norwegian football future.
But it will probably not happen. 
There are strong indications, namely, that national coach will hardly set foot on Israeli soil, types dagen.no in their column on Tuesday.
The reason is that sports coaches openly autumn 2010 supported an initiative for an academic and cultural boycott of Israel. Olsen joined wholeheartedly to the petition which, among others, artist Sonja Krohn was behind.
– This is not a conflict, it's a bloody occupation and ethnic cleansing. What is happening in Palestine now, is worse than what happened during the apartheid regime in South Africa, she told Aftenposten about the Middle East conflict by day.
Egil "Drillo" Olsen came up with this comment NTB, according dagen.no.
– There can be many different opinions than the occupation (of Palestinian areas, ed.'s Note) is reprehensible and illegal.
NOTE: Israel being in the areas of Judea and Samaria is entirely legal, and the "occupation", even if you still want to call it that, is entirely legal as well.