Not exactly grateful for being allowed in, now are they? 
This is exactly what Finns parlimentarian, Jussi Hall-aho warned about for Finland, if it embarked upon the same path as its Nordic neighbors. "Finland's immigrant ghettos will burn".
Unfortunately, but not unexpectedly, many immigrants have little education and are unable to find work in an upscale highly educated society.

Even under the best of conditions, integration into another society so culturally different from their own is a difficult adjustment for any nationality.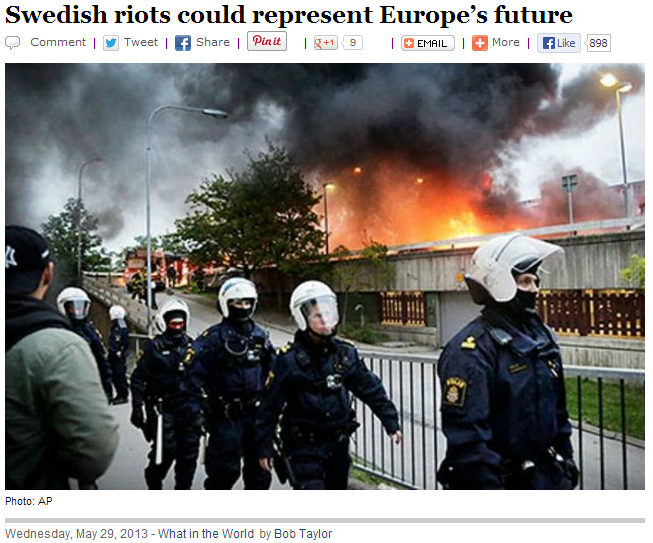 CHARLOTTE, May 29, 2013 – Travelers who have visited Sweden know it be one of the great undiscovered secrets of Europe. It is also one of the most liberal. Now, after more than a week of rioting, Sweden's grand experiment in multiculturalism is providing a window into what the rest of Europe, and even the United States, could expect if current immigration policies continue.
Thanks to government policies which offer new immigrants free housing and social welfare when they arrive, Sweden has long been one of the world's most popular destination for asylum seekers.
Sweden itself is a country of emigrants. In the southern region there is even an emigrant museum which is one of the best facilities in the world for genealogy research. Combined with its progressive philosophy Sweden has long had open-door immigration policies which, until recently, have been a source of national pride.