Have at it boys.
Popcorn grabbing fartwa: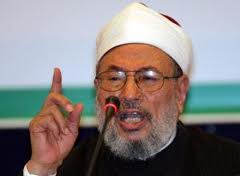 In Qatar, an influential Sunni Muslim cleric whose TV show is watched by millions across the region, fanned the sectarian flames ignited by the Syria conflict and urged Sunnis everywhere to join the fight against Assad.

"I call on Muslims everywhere to help their brothers be victorious," Yusuf al-Qaradawi said in his Friday sermon in the Qatari capital of Doha. "If I had the ability I would go and fight with them."

"Everyone who has the ability and has training to kill … is required to go," said al-Qaradawi, who is in his 80s. "We cannot ask our brothers to be killed while we watch."

He denounced Assad's Alawite sect, an offshoot of Shiite Islam, as "more infidel than Christians and Jews" and Shiite Muslim Hezbollah as "the party of the devil."
Rebels against Hezbollah: Rockets hit Baalbek region
Projectiles fired by rebels trying to overthrow Assad target Lebanon area controlled by Shiite group. Sunni Muslim cleric al-Qaradawi says Alawite sect 'more infidel than Christians and Jews,' Hezbollah 'party of the devil'
Roi Kais, AP
Syrian civil war spills into Lebanon: Eighteen rockets and mortars rounds from Syria slammed into Lebanon on Saturday, the largest cross-border salvo to hit a Hezbollah stronghold since Syrian rebels threatened to retaliate for the Lebanese terror group's armed support of Syrian President Bashar Assad. On Sunday two rockets exploded in a Hezbollah-controlled area of Beirut.
The rockets targeted the Baalbek region, the latest sign that Syria's civil war is increasingly destabilizing Lebanon. On Friday, the Lebanese parliament decided to put off general elections, originally scheduled for June, by 17 months, blaming a deteriorating security situation in the country.