Fibber Fiyaz caught peddling Muslim victimhood in the wake of Muslim orchestrated violence without a moral licence/ leg to stand on.
H/T: Scottish Infidel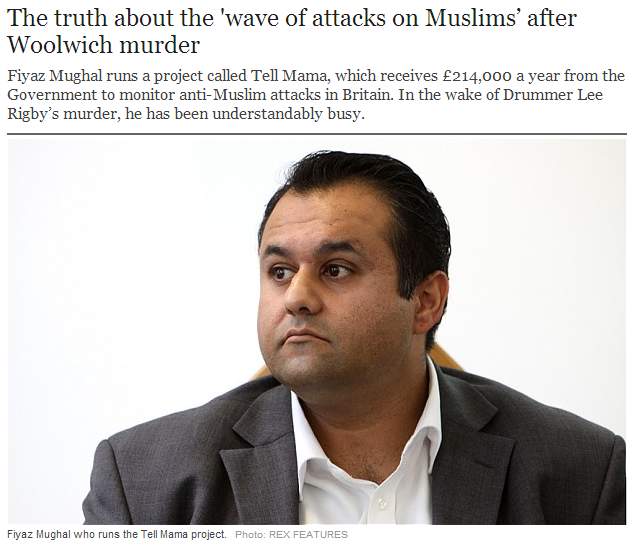 […]
Yet the unending "cycle of violence" against Muslims, the unprecedented "wave of attacks" against them from strangers in the street, the "underlying Islamophobia in our society" – all turn out to be yet more things we thought we knew about Woolwich that are not really supported by the evidence.
Tell Mama confirmed to The Sunday Telegraph that about 120 of its 212 "anti-Muslim incidents" – 57 per cent – took place only online. They were offensive postings on Twitter or Facebook, or comments on blogs: nasty and undesirable, certainly, but some way from violence or physical harm and often, indeed, legal. Not all the offending tweets and postings, it turns out, even originated in Britain.
Tell Mama has no written definition of what it classes as an anti-Muslim incident, but has in the past adopted a wide definition. Last November, the cross-bench Asian peer, Baroness Flather, told a newspaper it was "pointless for the Conservatives to chase Muslim votes.
They are all on benefits and all vote Labour". Tell Mama added this admittedly crass and untrue remark to its database as an "anti-Muslim incident," though it said it had deleted it following an explanation from Lady Flather.
Although the service says its caseworkers "carefully handle each report as it comes in, to determine whether it can be verified and justified as an anti-Muslim incident", Mr Mughal admitted that a further 35 of the 212 post-Woolwich incidents, or 16 per cent, had yet to be verified.
He justified publishing the figure, however, saying he expected that all but a handful of incidents would be verified.
Fewer than one in 12 of the 212 "incidents" reported to Tell Mama since Woolwich – 17 cases (8 per cent) – involved individuals being physically targeted.
Six people had things thrown at them, said Mr Mughal, and most of the other 11 cases were attempts to pull off the hijab or other items of Islamic dress.
Without in any way denying the distress and harm caused by such attacks, they do stand at the lower levels of seriousness.