Pot calling kettle black?
Manfred Gerstenfeld says to JTA reporter Cnaan Liphshiz that while there is racism in Israeli soccer, it is nothing compared to the violence endemic to British and Dutch soccer. He mentions a number of troubling incidents concerning British soccer in recent years
Racism is to be confronted and allowed to be penalized by private organizations, no one has "a right" to purchase football tickets, especially if they are using them to vent ugly behavior against others. The interesting angle here is, the willingness of Israelis to learn and use methods proven to have been useful in tamping down the racist outbursts at UK football events, but it's not a silver bullet, you will not erase racism entirely, it's an unwelcome part of the human condition,  and only a utopian believes it can be eliminated 100%.
Attempts at doing so however, come at the expense of personal liberty and individual freedom. Like I said, the private sector should be allowed by the law to free to discriminate against those who are being anti-social, that would do more against racism than any measure implemented by the state.
NOTE: It has to be galling for Israelis however to be "schooled" by those who have far worse examples of football racism than in Israel, but it shows just how much Israelis take the seriousness of the issue. You see, Israelis can be self critical, who can say that about their neighbors who like to like to parade themselves as vessels of superhuman virtue?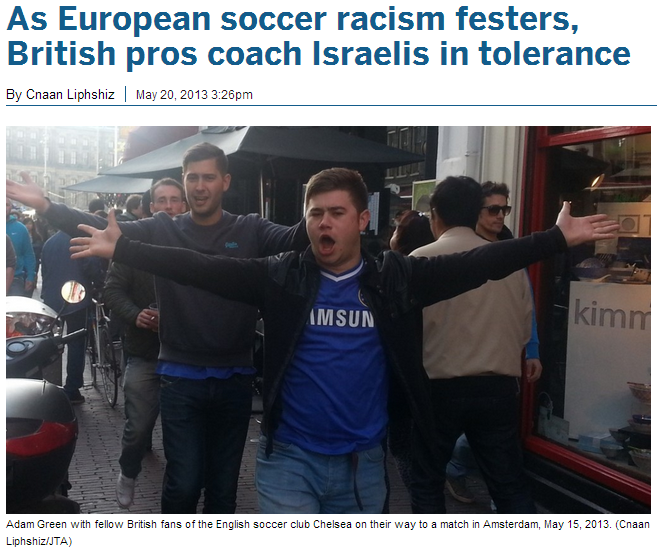 But a recent spate of anti-Semitic incidents in English soccer, and the F.A.'s refusal to fully adopt new European countermeasures, are making some question the association's suitability to instruct others in countering racist tendencies among fans.
"Clearly, Britain has not resolved its soccer racism and violence problem and is therefore no model for Israel," said Manfred Gerstenfeld, a Dutch-born scholar of European anti-Semitism at the Jerusalem Center for Public Affairs.
Critics such as Gerstenfeld point to a string of troubling incidents over the past year.
Ohad Eyal, a coordinator for the New Israel Fund, speaking at an anti-racism educational activity in Tel Aviv in 2011. (FARE Network)
In November, several West Ham fans hissed loudly to evoke the sound of Nazi gas chambers and gave what appeared to be the Nazi salute. The incident occurred during a match against the Tottenham Hotspurs, a club long associated with North London's Jewish community. A statement from West Ham subsequently said that two supporters had been "cautioned for racially aggravated gesturing."
Since then, Israeli midfielder Yossi Benayoun of Chelsea has been the repeated target of anti-Semitic hate speech. Police are investigating the latest incident, in which Benayoun was the target of an anti-Semitic epithet on Twitter. And in January, the Israeli-born Tal Ben Haim, who plays for the Queens Park Rangers, was subject to anti-Semitic abuse on the soccer club's official Facebook page.
Meanwhile, anti-Semitic slogans are routinely heard at soccer matches elsewhere in Europe. In Budapest, fans shouted Nazi slogans at the Israeli national team during a friendly match in August. In Italy, fans of the Lazio club also chanted anti-Semitic slogans during a match against Tottenham; some are believed to have participated in the stabbing of a Tottenham fan at a Rome bar.
Incidents like these prompted the Union of European Football Associations, or UEFA, to introduce a 10-game ban on anyone caught engaging in racist abuse.
[…]
As in Britain, Israeli soccer racism continues to be a problem despite the efforts of police and activists. The signing of two Chechen Muslims by Beitar Jerusalem this year led to the torching of the team's trophy room. Last year, Beitar fans attacked several Arabs at Jerusalem's Malha Mall.
Gerstenfeld, a Dutchman who moved to Jerusalem in 1968, acknowledges that racism exists in Israeli soccer, but is nothing compared to the violence endemic to British and Dutch soccer.
"I remember going to soccer matches as a boy in the Netherlands before racism and hooliganism set in," he recalls. "Perhaps you need a psychiatrist to explain how it happened."