Saudi Arabia, a place where one can still visit the seventh century and not be in a museum.
These were not hung in the traditional Western sense, they had a rope tied around their necks then lifted up into the air to slowly strangle to death.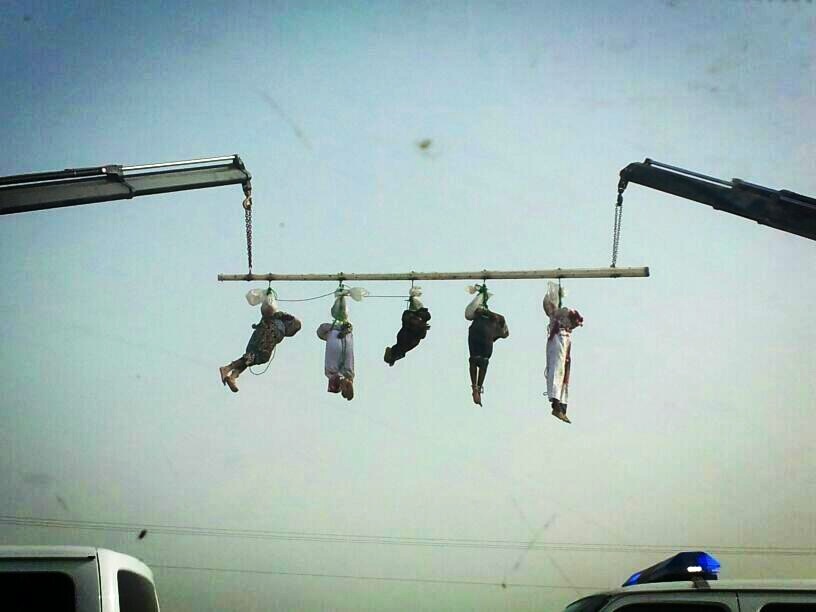 Saudi Arabia Executes Five Men and Hangs Bodies on Public Display 
Saudi Arabian authorities have executed five men and hung them from cranes in full public view.
The five Yemeni men were given the death penalty for murdering Saudi national Ahmad Haroubi, whom they allegedly beat up and strangled. The motive for the murder remains unclear.
The interior ministry said the five men – identified by the ministry as Khaled, Adel and Qasim Saraa, Saif Ali Al Sahari and Khaled Showie Al Sahari – also robbed shops after forming a gang.
It is unclear if the men were beheaded or shot as punishment for their crimes.
Following their execution, the bodies of the five men were hung on a horizontal bar between two cranes, with ropes tied to their waists. A witness who spoke to AFP said the bodies were hung near a university.