The tip of the iceberg.
It's not just child rape and prostitution, it's also selectively targeting a certain type of girl for criminal purposes, non-Muslim girls that is. It appears once again, that the British justice system is selectively enforcing its hate crime laws, in not prosecuting these scum bags for a hate crime. Just another reason why these laws should never have been passed in the first place.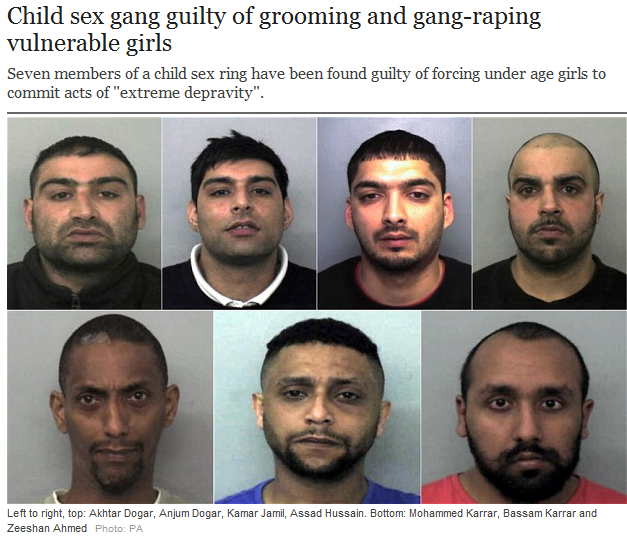 By Amy Willis and agencies4:45PM BST 14 May 2013
Their victims, aged between 11 and 15, were groomed and plied with alcohol and hard drugs before being sexually assaulted and forced into prostitution. Girls who were seen as "out of control" youngsters were deliberately targeted.
Abuse sessions would go on for days and involve the use of knives, meat cleavers and baseball bats. One was even forced to undergo an illegal abortion at a backstreet clinic when she fell pregnant by one of her tormentors.
Two sets of brothers, Akhtar Dogar, 32, and Anjum Dogar, 31, and Mohammed Karrar, 38, and Bassam Karrar, 33, were convicted along with Kamar Jamil, 27, Assad Hussain, 32, and Zeeshan Ahmed, 27.
Fighting broke out in the dock at the Old Bailey after two other defendants – Mohammed Hussain and a man who cannot be named for legal reasons – were cleared.
The seven men found guilty of offences against the six girls were remanded in custody for sentencing next month.
Zeeshan Ahmed struck out at Mohammed Hussain after Hussain was cleared. He struggled as dock officers lifted him up and out of court.
Police missed several chances to catch gang members before they were finally arrested.
Some victims relived their ordeals during the five month trial, describing how they were groomed, beaten, betrayed and sold into prostitution around the country.
One was still so frightened of her attacker that she refused to give evidence for fear he would hurt her again.
It was only after she was given legal advice that Girl D agreed to tell her story on a videolink from another room in the building.
She had been raped and prostituted at 11 by a man who bought her little gifts and showed her the first affection she had known.
Another victim, Girl A, complained of her plight to police on two occasions but no one was charged.
A care home manager refused to pay her taxi fare when she returned after absconding. The then 14-year-old was driven back to Oxford to be raped.