Yes, this is the same city of Malmo that is mostly comprised of Muslim immigrants and refugees, and are driving Jews out of the city.
NOTE: No mention of the attackers in the Swedish state media article.
Three Israeli journalists visiting Malmö in connection with the Eurovision Song Contest was threatened last week. A group of young men wanted to know where the Israelis live so that they could be bombed.
Journalist: "They laughed and said 'Let's bomb Israel'"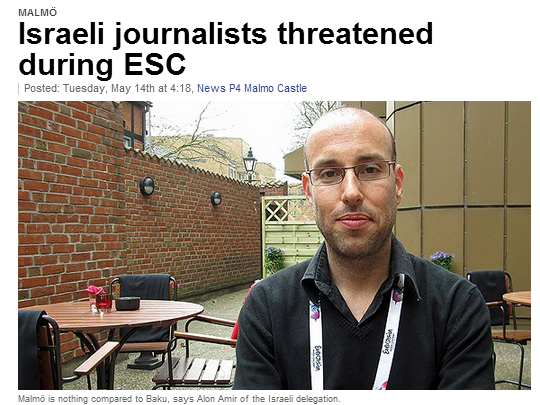 Sverige Radio: Journalist Leon and his two colleagues are not part of Israel's delegation but are visiting the Eurovision Song Contest as independent journalists. On Thursday evening they searched the house where they rented the room and came across six men in their 20s. The men asked them if they were from Israel and said they wanted to know where Israelis lived and that they wanted to bomb the place.
– They shouted: "Israel Israel towards us and said they wanted to know where Israelis lived and that they wanted to bomb the place, says Leon.
To escape from them, Leon said he was from Cyprus. He says he did not perceive it as the men were joking somehow.
– No, it was no joke. They started laughing and said "Yes, let's bomb Israel," he says.
Leon has not filed a police report the incident but has reported it to the Israeli delegation. He does not feel safe in Malmö.
Police have so far not received any notification of the threat or the like against any visitors during the Eurovision. The Israeli delegation is not worried, but rather very satisfied with its safety standards.
– We rely on our own security people and police. I was in Baku last year which is in a Muslim country that has an open border with Iran. Having been through it, Malmö is nothing. We love being here, we can move freely and we can leave the hotel a lot. We feel secure, says Alon Amir, press officer for the Israeli delegation.
H/T: Vasarahammer