Lets see, Saudi Arab, altered passport, traveling with pressure cooker, lying about the pressure cooker.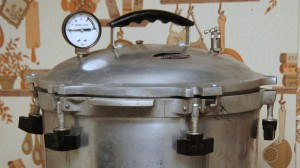 H/T: Vlad
Traveler from Saudi Arabia arrested at Detroit Metro with pressure cooker
Detroit — Federal agents arrested a Saudi Arabian traveler who arrived at Detroit Metropolitan Airport with a pressure cooker, a key component used in the Boston Marathon bombings last month.
Hussain Al Kwawahir will be arraigned at 1 p.m. in federal court for allegedly using an altered passport and lying to a Customs and Border Protection Agent about the pressure cooker.
Al Kwawahir arrived at the airport Saturday from Saudi Arabia, via Amsterdam, according to a criminal complaint filed Monday in federal court.
He told agents he was visiting his nephew, who attends the University of Toledo.
During baggage inspection, officers noticed a page missing from his passport.
Al Kwawahir told officers he did not know how the page was removed from the passport.
During the baggage exam, officers found a pressure cooker.
Al Kwawahir said he brought the pressure cooker for his nephew because the devices are not sold in the United States, according to the complaint.