Of course the talks were destined to go nowhere, but you can't blame the Israelis, the Palestinian government and society hasn't changed for the better, in fact they've devolved even further.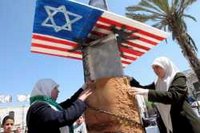 RAMALLAH — Israel and the Palestinian Authority tried to conduct backchannel negotiations, or at least initiate them, in late 2010 and early 2011 in a series of secret meetings between the prime minister's envoy, attorney Yitzhak Molcho, and the head of PLO Executive Committee, Yasser Abed Rabbo. Abed Rabbo revealed these contacts in an interview with this correspondent here last week.
According to Abed Rabbo, during the conversations, which culminated in a meeting between him and Prime Minister Benjamin Netanyahu at Molcho's house in central Israel, Netanyahu seemed ready to renew negotiations within the framework of two states based on the June 4, 1967, lines. But the prime minister subsequently backed away from the contacts and the channel was discontinued.