ROP = CULT OF DEATH
As long as the Turks are allowed to get away with their genocide of the Armenians (occurring over three separate governments) by the international community, they will continue to flaunt their arrogance.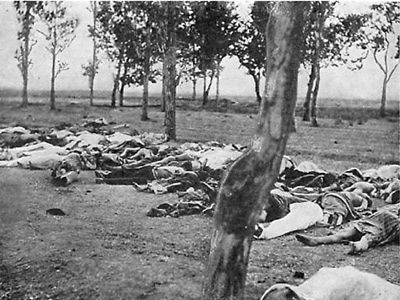 Canada: Turkish groups celebrate Armenian Genocide
by SHEIKYERMAMI on MAY 12, 2013
Ugly is as ugly does:
What illness has overtaken these people?
"Turkish-Canadian Groups Celebrate Armenian Genocide," from the Armenian Youth Federation of Canada, April 24 (thanks to JW):
OTTAWA – The annual Armenian Genocide Memorial Day protest in front of the Turkish embassy was met with 50 Turkish-Canadian counter-protesters denying the well-established actuality of the Armenian Genocide. The group quickly turned to singing and jubilant chanting at the face of the Armenians.

Further to this shameful act, the group was clearly attempting to incite a confrontation with their Armenian counterparts to undermine the annual gathering. Repeated name calling and general insults towards the Armenians could be heard from across the barrier.The Armenian group chose to ignore this immature and reprehensible behavior and kept their focus on the Turkish embassy demanding an end to the Turkish government's denial campaign around the world and acknowledge the dark chapter from its past.