They are loathe to be as aggressive on the Arabs as they are on Israel, because Jews don't issue fatwas.
The reason many are turned off by what once was a good human rights organization with lofty ideals, is due to the overt hypocrisy displayed on the world's stage, as it singles out the only modern, functioning democracy of the Jewish state. Such consistent demonization of Israel has led many a good person astray, and has done nothing to help people in the region (and elsewhere) who are in real need of highlighting their dire predicaments.
NOTE: Lori Lowenthal Marcus is one of the rare, real journalists, who consistently finds real stories to publicize…that actually matter.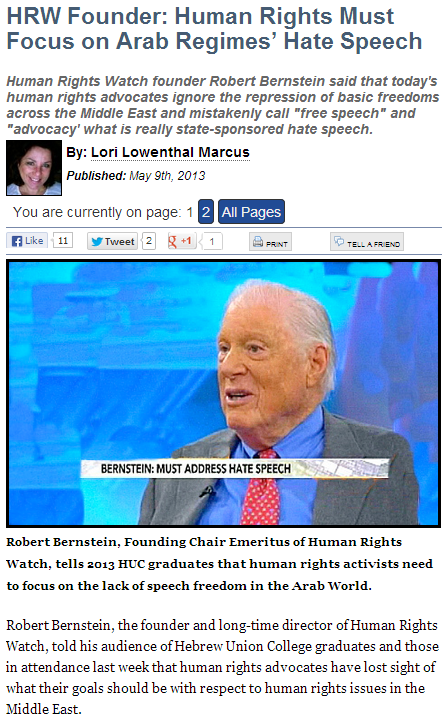 The undisputed dean of the  global human rights movement, Bernstein, 90 years old, says that the movement has lost its way.  Instead of focusing on the stranglehold on speech and other basic freedoms by the leaders of 300 million Arabs across the Middle East, the human rights watchers instead watch Israel with a microscope and play a twisted game of 'gotcha!' in an effort to catch Israel in what they rush to call war crimes.
Bernstein noted that of the millions of Arabs whose governments deny them freedom of speech, "half of them, 150 million, as women, not only lack freedom of speech, but have barely any rights at all.  And the private rights of how to pray and how to love are wrongly dictated by governments all across the Arab World."
In essence, Bernstein called the "Arab Spring" a squandered opportunity for human rights activists who should have seized the opportunity to help oppressed people throughout the region throw off their shackles, instead of helping them exchange the old shackles for new ones.
Dictators who had oppressed their own people – and deceived them by telling them that Jews and Israel's very existence were one of the primary causes of their misery – were toppled.  It was a time for human rights organizations and governmental organizations to try to push for these rights long denied, with the hopes that they would take some root.  One might have hoped, too, that it was a time for human rights organizations to tell the people living in Arab countries that their governments not only misled them about their own rights, but also falsely portrayed Israel as a threat and an enemy to detract attention from their plight.  Sadly, they did not do this.  And the reason, in my opinion, is because of where many in the human rights community have placed their emphasis in recent years.