Where there's smoke there's fire.
Highly unlikely that she was ignorant of her husband's jihad plans.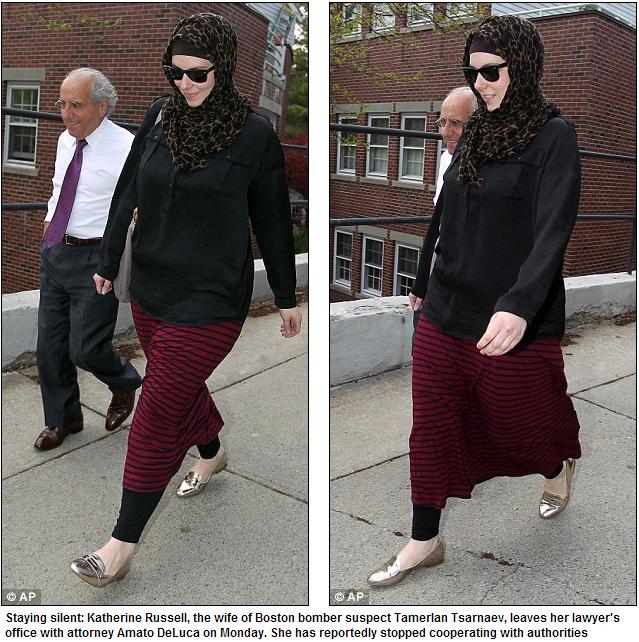 FBI focuses on Boston bomber's widow after agents discover radical Islamist files on her computer and traces of explosive residue throughout her home  
Katherine Russell, 24, had al Qaeda's extremist Inspire magazine on her computer

Traces of explosives were found in bathtub, sink and on a table in her and Tamerlan Tsarnaev's Cambridge, Mass., home


Russell spoke to Tamerlan Tsarnaev in the hours after the FBI released images of him, but she will not reveal what they discussed

Fingerprints and DNA found on at least one bomb does not belong to her

Authorities 'skeptical about her insistence she had nothing to do with it'

By LYDIA WARREN and SNEJANA FARBEROV
PUBLISHED: 20:12 GMT, 4 May 2013 | UPDATED: 04:21 GMT, 5 May 2013
New evidence: Tamerlan Tsarnaev's widow, Katherine Russell (pictured in 2007 mugshot) is under scrutiny after officials discovered radical Islamist files on her computer
Federal officials investigating the Boston bombings have discovered radical Islamist materials on a computer belonging to the widow of the deceased suspect, it has been revealed.
Katherine Russell, 24, has repeatedly claimed through her attorney that she knew nothing about the deadly April 15 bombings allegedly set off by her late husband, Tamerlan Tsarnaev, and his younger brother, Dzhokhar.
However, the discovery of al Qaeda's Inspire magazine on Russell's computer, along with the presence of explosive residue throughout their home, have raised new questions about Russell's possible involvement in the act of terror.
According to a government document obtained by NBC News, an analysis of the bombs used at the Boston Marathon and pipe bombs that the Tsarnaevs had allegedly thrown at police may have been built following instructions that appeared in an Inspire article titled: Make a Bomb in the Kitchen of Your Mom.
Officials have yet to determine whether the Islamist files found in Russell's possession belonged to the 24-year-old mother, her late 26-year-old husband or a third party, a source told The Washington Post.
Tamerlan Tsranaev was shot dead in a gun battle with police four days after the marathon bombings when he and his brother allegedly carjacked a vehicle in a Boston suburb.
His younger brother, 18-year-old Dzhokhar Tsarnaev, had fled, setting off a massive manhunt that ended when he was discovered gravely wounded hiding in a boat.
Russell's attorney, Amato DeLuca, had previously said his client was kept in the dark about the deadly plot, and she was shocked to learn that her husband and brother-in-law were allegedly responsible for the attacks.