About time, welcome.
Dr. Andrew Bostom wrote about Thomas Jefferson's reflections on the Barbary jihadists war against the nascent United States merchant fleet, back in 2006 (in a more thorough review). It's nice however for the Left to finally sink its teeth into the issue, with a former Muslim providing the famous quotes and insights. Glad to see the wake up to reality taking place on the other side of the aisle, we need them.
I also understand that extremism in any ideology isn't a distortion of that ideology. It is an informed, steadfast adherence to its fundamentals, hence the term "fundamentalism.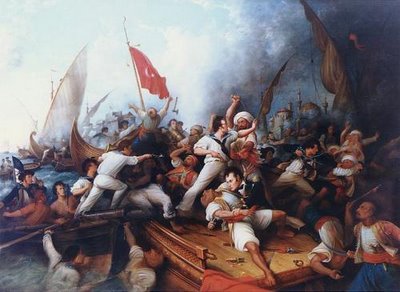 An Atheist Muslim's Perspective on the 'Root Causes' of Islamist Jihadism and the Politics of Islamophobia
Posted: 05/03/2013 10:09 pm
The ambassador answered us that [their right] was founded on the Laws of the Prophet, that it was written in their Koran, that all nations who should not have answered their authority were sinners, that it was their right and duty to make war upon them wherever they could be found, and to make slaves of all they could take as prisoners, and that every Mussulman who should be slain in battle was sure to go to Paradise.
The above passage is not a reference to a declaration by al Qaeda or some Iranian fatwa. They are the words of Thomas Jefferson, then the U.S. ambassador to France, reporting to Secretary of State John Jay a conversation he'd had with Sidi Haji Abdul Rahman Adja, Tripoli's envoy to London, in 1786 — more than two and a quarter centuries ago.
That is before al Qaeda and the Taliban, before the creation of Israel or the Arab-Israeli conflict, before Khomeini, before Saudi Arabia, before drones, before most Americans even knew what jihad or Islam was, and, most importantly, well before the United States had engaged in a single military incursion overseas or even had an established foreign policy.
At the time, thousands of American and European trade ships entering the Mediterranean had been targeted by pirates from the Muslim Barbary states (modern-day North Africa). More than a million Westerners had been kidnapped, imprisoned and enslaved. Tripoli was the nexus for these operations. Jefferson's attempts to negotiate resulted in deadlock, and he was told simply that the kidnapping and enslavement of the infidels would continue, tersely articulated by Adja in the exchange paraphrased above.
Adja's position wasn't a random one-off. This conflict continued for years, seminally resulting in the Treaty of Tripoli, signed into law by President John Adams in 1797. Article 11 of the document, a direct product of the United States' first-ever overseas conflict, contained these famous words, cementing America's fundamental commitment to secularism:
As the Government of the United States of America is not, in any sense, founded on the Christian religion; as it has in itself no character of enmity against the laws, religion, or tranquility, of Mussulmen; and, as the said States never entered into any war, or act of hostility against any Mahometan nation, it is declared by the parties, that no pretext, arising from religious opinions, shall ever produce an interruption of the harmony existing between the two countries.
Yes, the establishment of secularism in America back in the 18th century was largely related to a conflict with Islamist jihadism.