Like minded dolts.
Finland's Pertti Salolainen was actually channeling Ali Mazrui, when he promoted the same antisemitic canard on Finnish state TV, in November of 2012. Ok, now I got it.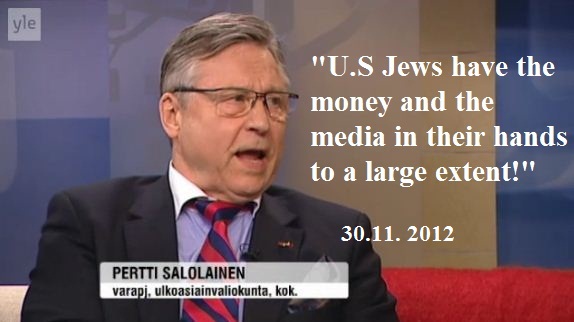 Anti-Semite Ali Mazrui Honored by Alwaleed Bin Talal Center at Georgetown University
by Winfield Myers  •  May 3, 2013 at 7:09 pm
Ali MazruiOn May 6, 2010, Ali Mazrui, director of the Institute of Global Cultural Studies at SUNY-Binghamton, made the following statement to an audience at Columbia University:
The population of Jews in the US is three percent … but [their 'genius'] leads to their controlling so much power that even presidents are scared [of them]. Whether [President Barack] Obama will be able to escape the notion that three percent of the country is so powerful that the top gentile in the land cannot criticize Israel is not clear.
In spite of–or perhaps because of–this and other blatantly anti-Semitic statements recorded below, Mazrui has been awarded the "2012-13 Building Bridges Award" by the Alwaleed Bin Talal Center for Muslim-Christian Understanding at Georgetown University. The Center's founding director, John Esposito, has long been among America's most vocal apologists for the radical Wahhabi branch of Islam. By honoring Ali Mazrui, the Center Esposito directs–founded with a $20 million gift from Saudi Prince Alwaleed Bin Talal–remains true to its origins.
ACMCU's website says the award, "recognizes individuals who have dedicated their life's work to fostering greater understanding between faith groups." Mazrui and the two other recipients are recognized, it states, because their "efforts to promote interfaith relations, peace-building and social justice have been extraordinary."