The net just widened.
BREAKING: 3 in Custody for Obstructing Justice in Boston Bombing Case
Three additional suspects are in custody – two had been detained on immigration charges and the third was arrested on May 1 – all for allegedly interfering with evidence sought in connection with the Boston Marathon bombing case.
By: Lori Lowenthal Marcus  Read it all here at the Jewish Press.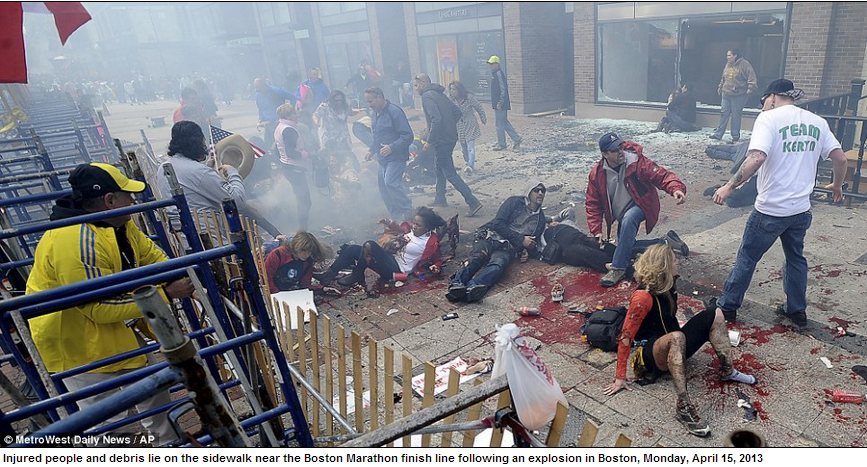 Al-Reuters:
Police are investigating whether the classmates threw away a backpack at Tsarnaev's request after the bombing, which killed three people and injured 264 others. Last week law enforcement officials were seen searching dumps in southeastern Massachusetts.
Boston police take three suspects into custody in bomb case
(Reuters) – Three additional suspects have been taken into custody in the investigation of last month's deadly bombings at the Boston Marathon, the Boston Police Department and a U.S. law enforcement source said on Wednesday.
Officials last month accused two ethnic Chechen brothers of placing homemade pressure-cooker bombs at the finish line of the marathon on April 15. One died after a gunfight with police three days after the bombing and the other was captured and criminally charged before being sent to a prison hospital to recover from gunshot wounds.
A U.S. law enforcement source said that two of the suspects taken into custody on Wednesday include classmates of the younger brother at the University of Massachusetts in Dartmouth. They are being held by immigration officials for violating the terms of their visas. The source said they are likely to face charges related to obstruction of justice and with making false statements to investigators.