The event makes it clear that Jews are indeed invited, as a "celebration for all its citizens", but then makes it entirely impossible for them to participate by scheduling on the Jewish high Holy day. There will be those who disagree with me, quoting "when in Rome…", but given the history of European treatment of Jews, you would think an open handed gesture of rescheduling, one day earlier or later, would be the least one could ask.
Mind you, this takes place in a land totally given itself over to the multiculture mindset, yet, when you think that this is exactly a situation where that would qualify, they turn their nose up at the Jews. This is the point I've been making all along, 'multiculturalism' is an illusion, it's premised upon inclusiveness, but in actuality, its policies are based upon political expediency and balkanization.
NOTE: This is a real sad case, a real slap in the face of the Jews, once again.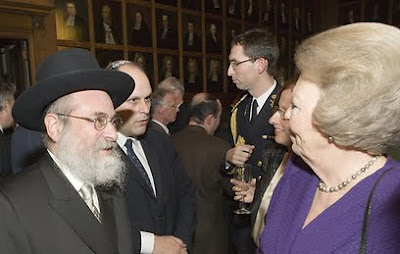 Dutch King Inaugural Tuesday, Queen to Leave on Yom Kippur
Chief Rabbi Jacobs to attend King Willem inaugural Tuesday, but not festive leave taking for Queen Beatrix, planned for Yom Kippur.
Dutch Queen Beatrix, who will be succeeded on Tuesday, April 30, by her son, the new King Willem Alexander, will take official leave from Dutch citizens on September 14, which falls out on Yom Kippur this year.
The program, organized by a national committee, states that the event is meant "to give all Dutchmen as a collective" the opportunity to thank the Queen.
[…]
Arutz Sheva asked Israeli expert on The Netherlands, Dr. Manfred Gerstenfeld, author of the bestselling book in Dutch The Decay, Jews in a Rudderless Netherlands (2010) to comment. He stated that Dutch Jewry has traditionally viewed the Royal House of Orange very positively, but this feeling has not always been reciprocated.
"Queen Beatrix' grandmother Wilhelmina, objected to a proposed location for the housing of German Jewish refugees before the Second World War. It was more than ten kilometers from her palace, yet too close for her liking. During the war, in her years in exile in London, she often addressed the Dutch people by radio. During that entire period, she devoted only five sentences to the persecuted Dutch Jewish citizens.
"Queen Wilhelmina's speechwriter, historian Lou de Jong, has been quoted as saying that he inserted many more remarks concerning Dutch Jews into the drafts of her speeches, but the Queen deleted them.