El'presidente Mahmoud Abbas doesn't want the murdering terrorist prosecuted, instead he's to be lionized, as a national hero.
When finally prosecuted and thrown into prison, he will become yet another terrorist championed by the Arabs and their supporters as a "political prisoner". Just wait and see, whoever he is, will eventually have his picture pasted on a poster by those demanding his freedom.
UPDATE: I'm hearing through back channels The terrorist was recently released from prison. Also that: The Tapuach checkpoint was removed — its 30 meters north from where the terror attack took place.
UPDATE II; I didn't have to wait long, Fattah is full of praise for the cold blooded killer.
Brian of London at Israellycool has more.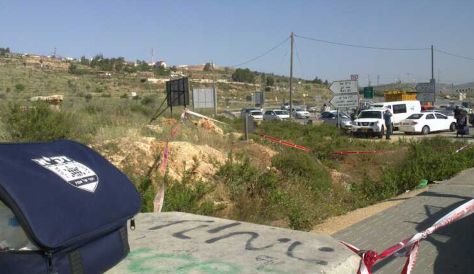 West Bank: Terrorist kills Israeli at Tapuah junction
By BEN HARTMAN, YAAKOV LAPPIN
LAST UPDATED: 04/30/2013 08:16
Palestinian man attacks 32-year-old Israeli at hitchhiking spot at the junction in the northern West Bank; initial police and Border Police statements differ on details of the attack; terrorist injured in return fire.
An Israeli was killed in a terror attack at the Tapuah junction in the northern West Bank on Tuesday morning, when he was attacked by a Palestinian man at a hitchhiking spot at the junction.
The victim, a 32-year-old Israeli father of five from the Yitzhar settlement in the West Bank, was pronounced dead at the scene.
Initial police and Border Police statements differed on whether the man was stabbed by the Palestinian, who then stole his gun, or if the man snatched the victim's gun and then shot him.
The Border Police said minutes after the attack that a terrorist armed with a knife attacked a settler at a hitching post, stole the man's gun and fired at Border Patrol officers who were nearby. The officers returned fire and wounded the man, and then took him into custody, the Border Police said.
Shortly after the attack large numbers of police and security forces swarmed to the scene and closed the junction, while the terrorist was taken for medical treatment and to undergo questioning.
Col. Yoav Yarom, head of the Samaria Regional Brigade, is on the scene along with Brig.-Gen. Tamir Yadai, commander of the Judea and Samaria Division, to help conduct investigations to the attack.