Close its doors.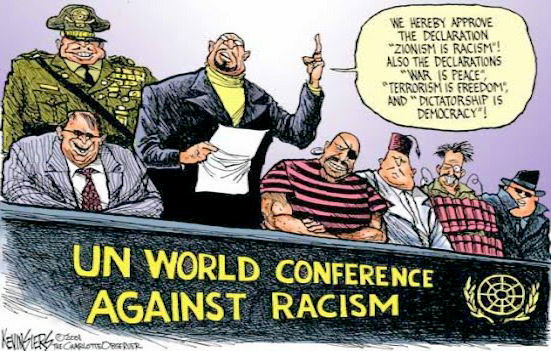 The UN as a global institution is a massive epic fail, responsible for the proliferation of nuclear technology around the world, it serves as a world stage for every dictator and authoritarian to vent their spleens, while providing anti-Western/anti-democratic organizations a vehicle to subvert the meaning of human rights and international law. That which it was designed to prevent, it openly flaunts the opposite.
NOTE: Former US ambassador to the UN, John Bolton had it right, end the UN, and pass out cell phones to each representative leaving the building.
ALSO: Watch the Sun's report on UN nonsense vis-a-vis Canada.
Two weeks ago, noted Bayefsky, "the major committee that's been tasked with drafting a comprehensive convention on terrorism for the first time in history ended once again – as it has done year after year – in disarray, because they can't agree to define terrorism. The Organization of Islamic Cooperation believes that there should be an exception clause for so-called 'legitimate struggle.'"