Oh, and it wasn't due to her shoplifting of over $1600 worth of stuff.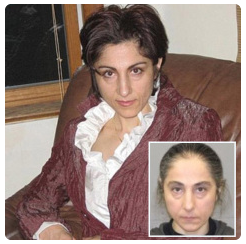 This is a picture of Zubeidat Tsarnaeva before she went fundamentalist around the same time as her son Tamerlan, suspicions are that she influenced them with fundamentalist Islam. It's the jihad folks, it's just a matter of sifting through the data to see how extensive their connections were to other jihadist groups.
Drudge Report: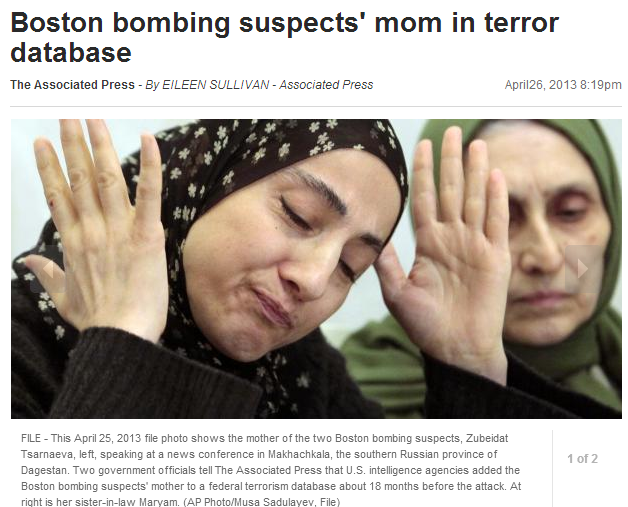 WASHINGTON (AP) — U.S. intelligence agencies added the mother of the Boston bombing suspects to a government terrorism database 18 months before the bombings, two officials told The Associated Press. She called it "lies and hypocrisy" and said she has never been linked to crimes or terrorism.
The CIA asked for the Boston terror suspect and his mother to be added to a terrorist database in the fall of 2011, after the Russian government contacted the agency with concerns that both had become religious militants, according to officials briefed on the investigation. About six months earlier, the FBI investigated Tamerlan Tsarnaev and his mother, Zubeidat Tsarnaeva, also at Russia's request, one of the officials said. The FBI found no ties to terrorism.
The revelation that the FBI had also investigated Tsarnaeva and the CIA arranged for her to be added to the terrorism database deepened the mystery around the family. The Tsarnaevs are ethnic Chechens from southern Russia who immigrated to the Boston area in the past 11 years. Tsarnaeva, a naturalized U.S. citizen who has appeared on television interviews since the attacks and reversed her decision to return to the U.S. after the bombings, has said her sons could never have been behind the deadly attacks and believes they were framed.