I say an "Iranian diplomat" is an oxymoron.
Everywhere you look, Iran has operatives involved in some form of skulduggery or another. A friend just mentioned to me that:
Iran and Hezbollah's activities to attack Israelis and Jews in Europe is a hugely serious matter. As one can see by the presence of large Iranian networks in the Balkans. The Israelis are tracking the Iranians.
The intelligence community in Europe are on high alert, and to those who do not think Iran poses any danger whatsoever to the world at large, think again, responsible governments who are privy to the intel, want the removal of any Iranian operatives moving in and around their cities and countryside. They know that wherever these operatives/terrorist planners are operating, dead citizens usually follow.
Reports of foiled operations might stand as "tipping point" for EU to include Hezbollah on blacklist. As the European Union grapples with a ban of the Lebanese Shi'ite organization Hezbollah within its territory, reports emerged last week of foiled Iranian and Hezbollah terror and criminal plots against targets spanning Bulgaria, Nepal,Canada and the US.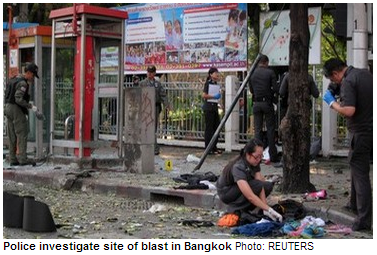 Bosnia expels two Iranian diplomats
By BENJAMIN WEINTHAL
04/28/2013 01:02
Minister of security declares Iranian embassy secretaries "persona non grata"; unclear involvement in past terrorist plots.
The government of Bosnia ordered two Iranian diplomats to leave the Balkan country by the end of the month because they violated diplomatic protocol.
A Serbian-language paper in Sarajevo, Voice of Serbia, reported on Friday that Bosnia's Security Ministry sent a request to the Foreign Ministry to expel the second- and third-ranking diplomats at the Iranian Embassy in Sarajevo.
Israeli intelligence officials apparently warned Bosnian officials about an "unnamed Iranian diplomat" who was present in Thailand, Georgia and India, where Israelis faced terrorist attacks in 2011.
The diplomats, Hamzeh Dolab Ahmad and Jadidi Sohrab, the second and third secretaries at the embassy, appear to work for the Ministry of Intelligence and National Security of the Islamic Republic of Iran (MISIRI).
Fahrudin Radoncic, minister of security of Bosnia and Herzegovina, declared the Iranians persona non grata because their conduct violated diplomatic rules. Radoncic did not provide greater specificity for expelling the Iranians. It is unclear if either of the Iranian diplomats was involved in the terrorist plots against Israelis in Thailand, Georgia and India.