OIC's Ekmeleddin Ihsanoglu seen nodding in agreement.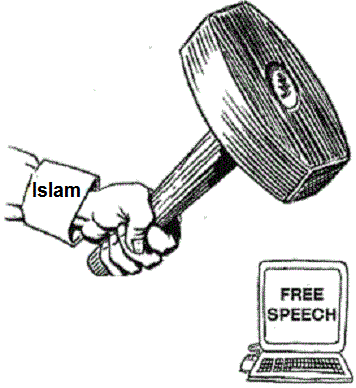 "Racist Hate Speech" Conviction in Belgium for Tearing up Koran in Front of a Group of Muslims
Dr. Jogchum Vrielink (coordinator of the Centre for Discrimination Law at the University of Leuven, Belgium) passes this along:
In Belgium a man was convicted for 'racist hate speech' because he publicly tore up a Koran, before the eyes of a group of Muslims. The case illustrates the need to protect free speech against those seeking to criminalise 'Islamophobia'.

On 8 June 2012 a man, identified as Arne S., participated in a demonstration organised by a radical right-wing political party, Vlaams Belang ('Flemish Interest'), opposing the construction of a mosque in the Belgian coastal city of Ostend. In the aftermath of the demonstration S. tore up a Koran in the presence of a small group of Muslims, with whom he had exchanged words. The public prosecutor indicted S. for incitement to hatred, discrimination and violence on the basis of race and ethnic origin.

The defendant's attorney called for an acquittal, arguing that no infraction on the anti-racism legislation had occurred. The criminal court in Bruges convicted the man, however, on 11 March 2013. Due in part to the unfavourable criminal history of the defendant, the sentence was relatively severe, consisting of an effective prison sentence of four months and a fine of 600 euros. The court held that the facts were serious and testified to "a blatant lack of tolerance and a highly questionable attitude".

Terrorist!