Like that would have mattered in the least!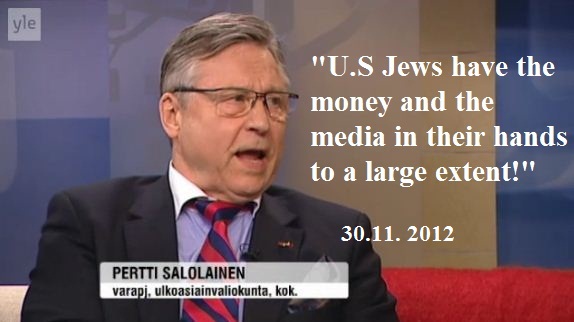 It's now clear that Pertti Salolainen (Nat. Coalition Party), the Finnish Foreign Ministry and the editorial department at the very influential Finnish magazine, Suomen Kuvalehti, believe that a politician who states the following, is not making an antisemitic remark:
– The United States finds it difficult to take a more neutral stance on the Israel-Palestine issue, because they have such an influential Jewish population, which has both money and the media in its hands to a large extent ('read='aika paljon"). The U.S. Administration has not dared to venture, due to internal political reasons, enough with this issue. This is terrible truth about U.S. policy."
The Suomen Kuvalehti report in today's online edition, states exactly the same as I reported it back in November 2012 (emboldened print by me) that "Jews in the US pretty much control the media and the money". Which either way you say it, "pretty much, rather a lot, to a large extent, and yes….quite a lot", the meaning remains the same, and is deemed highly antisemitic by US Jews. The Finnish MFA, Pertti Salolainen and the Suomen Kuvalehti are completely unaware of this,…and I smell yet another brouhaha forming becuase of it, and justifiably so.
Foreign Ministry regrets forgetting Salolainen
SK: Ministry of Foreign Affairs regrets that it hadn't asked Member of Parliament, Minister Salolainen (Nat. Coalition Party) to review Finland's answer to the Simon Wiesenthal center.
Salolainen strongly criticized on Friday in the edition of the Kanavassa newspaper  the Minstry of Foreign Affairs and the Embassy of Finland in Washington DC over the response to the Simon Wiesenthal Center. Salolainen's op-ed was titled "How they made me into a Nazi." (Read the full script here.)
The Center wanted an explanation of Salolainen's statement, which Salolainen estimates that the U.S. Jewish population has "pretty much" the power of the media and the money market. Salolainen is the Vice Chairman of the Parliamentary Committee on Foreign Affairs.
According to Ambassador Ritva Koukku-Ronde, the embassy did not explain to the Center Salolainen's statements. However, She regrets that Salolainenhad not been contacted.
"I regret that this answer was checked by Salolainen, nor was he given an opportunity to respond directly to the letter," Koukku-Ronde said.
According to Koukku-Ronde the Ministry of Foreign Affairs and the embassies explained only Finnish policy.
"We responded only to the second part of the letter. A comprehensive description of  Finnish government policy. "
Hook-Ronde response was prepared in cooperation with the Ministry. She did not want to assess whether the response should have been forwarded to the Minister for Foreign Affairs Erkki Tuomioja (SDP).
"No comment on that position."