Hey Norway, you keeping a real close eye on this piece of crap?
Oh, and this is the same guy who gave not-so-veiled threats against Jews in Norway, as well as living on the taxpayers' expense.
Posts Boston-terrorists on Facebook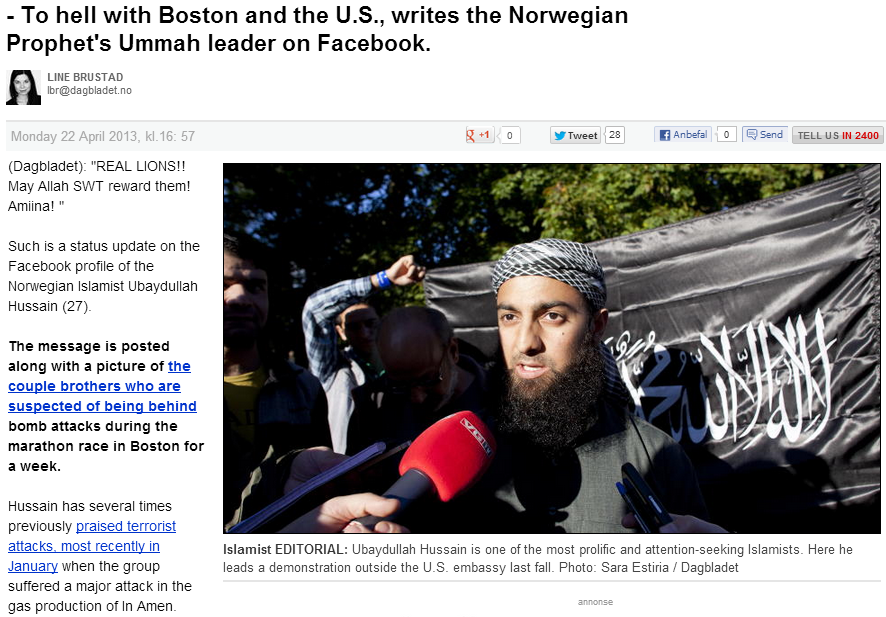 – To hell with Boston
The 27 year old is one of Norway's most attention seeking Islamists and leader of the group The Prophet's Ummah, which is an object of great interest from Oslo police and the Police Security Bureau.
Last Friday Hussain posted his first comment to the Boston attacks:  «To hell with Boston and the USA, and may Allah destroy America», he wrote.
Hussain has so far not answered Dagbladet's requests in this case, but in an email to TV2, who first broke the story, he wrote:
«This little attack can't be compared with USA's warring against other nations, lasting many decades.  Their cowardly drone attacks and torture methods against our brothers, sisters and children are deplorable. Why haven't the western community and the western media focused on this? Apart from this I have no comments."
Was arrested
Hussain was arrested in October for threatening two journalists –  Nina Johnsrud from Dagsavisen and a reporter from Aftenposten-reporter – and against Det Mosaiske Trossamfund (The Mosaic Faith Society) He was released the next month, but is still under charge.
Last December he is alleged by  TV2 to have spread a Facebook message from his fellow believer Arfan Bhatti, in which Norwegian soldiers in Afghanistan are described as "living targets, living corpses".
«After a nice chat with our brother  Arfan Bhatti I wish to share this message from him referring to the article where the Telemark Battalion declare they are ready to to beat down anyone who attacks their forces in  Afghanistan», Hussain wrote.
Last October he himself posted a message many interpreted as death threats against Norwegian Jews. l
«Oh, I'll give them protection all right,  inshAllah. As soon as I have passed the hunter's test and get my hands on an AK47," Hussain wrote on Facebook, linking to an article in VG about Jews in Norway lacking police protection.
Before Christmas it was also revealed that PST (Police Security Bureau)  are investigating a Facebook post from Hussain about foreign minister Espen Barth Eide (Ap).
Dagbladet.no Translation: Cecilie