UPDATE: SWC weighs in, scroll down for more.
UPDATE II: TUNDRA TABLOIDS SCOOPS JERUSALEM POST IN SWC LETTER TO DUTCH PAPER DE VOLKSKRANT OVER ANTI-SEMITIC CARTOON…….
Needless to say, that Israel is depicted here as an ultra-Orthodox Jew like the Nazis did during the 20's-30′-40's. This is part of the demonization regardless if Colignon admits to it or not, drawing on ancient stereotypes of Jews, and transposing it to modern day Israel. The cartoonist Jos Colignon has published other anti-Israel cartoons as well.
From Vlaams Vrienden Van Israel:
The Dutch newspaper De Volkskrant published on April 20, 2013 a controversial political cartoon by the Dutchman Jos Collignon (1950), who since 1980 has been three times a week  a regular cartoonist for the newspaper. Israel and North Korea are unfairly compared with each other about nuclear weapons.

But that's not even the most disturbing design of this cartoon. The way in which Jos Collignon depicts Israel is reminiscent of the period of Nazi Germany when Julius Streicher made similar cartoons in the antisemitic publication of Der Sturmer, a favorite magazine ​​of the European anti-Semites.

For Collignon, like Streicher, the Israeli is a Hasidic Jew, a secret sneak, presented with crooked nose, long beard in typical 19th century dress with black hat and long black clothes. It is high time that Collignon visits Israel, if only to see how the average contemporary  Israeli looks like today, an idea.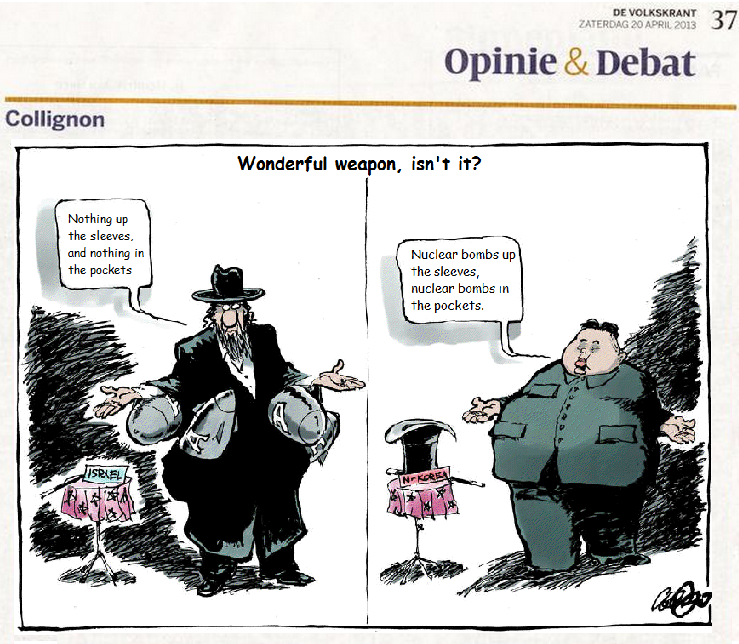 April 25, 2013
SIMON WIESENTHAL CENTER BLASTS DUTCH PAPER FOR USING NAZI IMAGERY TO DEPICT ISRAEL AS NUCLEAR THREAT
Having just returned from a four day trip to the Netherlands to discuss the ever growing topic of anti-Semitism, Rabbi Abraham Cooper Associate Dean of the Simon Wiesenthal Center is protesting a cartoon published in the Dutch newspaper, De Volksrant by Jos Collignon that used Nazi imagery to depict Israel as a threat to world peace. Below is his protest submitted to editor-in-chief of the Volkskrant newspaper:
Last week I met in the Hague with Deputy Prime Minister Asscher, intelligence officials, and Dutch Parliamentarians at the Hague to discuss the posting by Sharriah4Dutch of a new fatwa about attacking European Churches and Synagogues and the Simon Wiesenthal Center's alarm over growing anti-Semitism in The Netherlands. I referred to the respected Ebert Foundation poll that showed over 38%of Dutch respondents said that Israel is exterminating Palestinians the way the Gemans exterminated the Jews! Shocking? Perhaps not, considering decisions like your paper's to publish a cartoon depicting Israel as the lying hooked-nosed religious Chasidic Jew commiserating with a North Korean counterpart over their nuclear capabilities. Never mind that it is Mullahs in Tehran who are working hand-in-hand with Pyongyang to threaten regional and world peace. Never mind that no Arab leader feels threatened by Israel's nuclear capabilities, only Iran's nuclear ambitions. So it seems that tried and true Nazi Jew-hatred imagery still works for at least 38% of your fellow Dutchmen.

Perhaps though as editor-in-chief you might want to apologize for the timing of this particular outrage as it came 24 hours after an Iranian citizen burst into a synagogue in Paris where he stabbed a (hooked nosed?) Rabbi and his 18 year-old son screaming Allah Akhbar.
Rabbi Abraham Cooper
Associate Dean
Simon Wiesenthal Center