Business as usual.
For those of us who follow this subject, it's not news at all, the fact that the Boston Herald is justifiably shocked and outraged over it, obviously ignorant about the phenomenon of jihadi tards on the dole, that it's more news than the original story. This is how they do it in Europe, UK: Anjem Choudary, Omar Bakri, Norway: Ubaydullah Hussain, Australia: Abdul Nacer Benbrika ETC..ETC..ETC..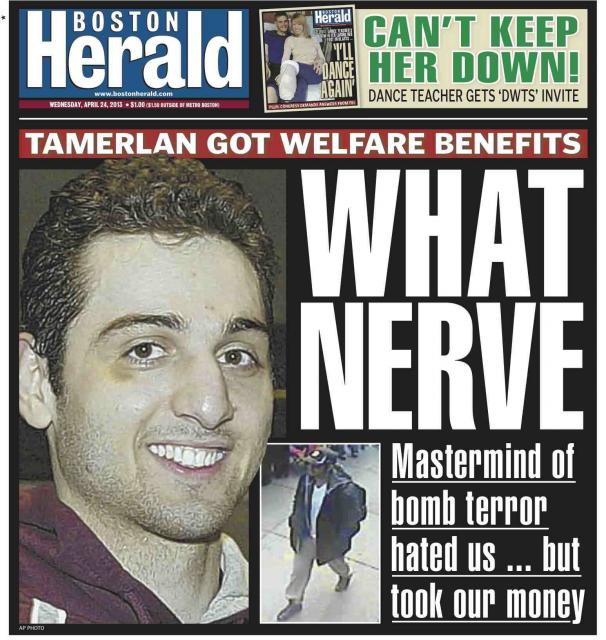 Tamerlan Tsarnaev and Family Received Welfare
6:54 AM, APR 24, 2013 • BY DANIEL HALPER
Tamerlan Tsarnaev was on welfare, sponsored by tax payers. Tsarnaev, now dead, is suspected of bombing the Boston Marathon last week.
"Marathon bombings mastermind Tamerlan Tsarnaev was living on taxpayer-funded state welfare benefits even as he was delving deep into the world of radical anti-American Islamism, the Herald has learned," reports the Boston Herald.
"State officials confirmed last night that Tsarnaev, slain in a raging gun battle with police last Friday, was receiving benefits along with his wife, Katherine Russell Tsarnaev, and their 3-year-old daughter. The state's Executive Office of Health and Human Services said those benefits ended in 2012 when the couple stopped meeting income eligibility limits. Russell Tsarnaev's attorney has claimed Katherine — who had converted to Islam — was working up to 80 hours a week as a home health aide while Tsarnaev stayed at home.
"In addition, both of Tsarnaev's parents received benefits, and accused brother bombers Dzhokhar and Tamerlan were recipients through their parents when they were younger, according to the state."