That would explain the dual life he led.
I believe as the investigation deepens, we are going to find out a whole host of connections between the elder brother and Chechen Islamic fundamentalists. Tamerlan was the conduit of fundy Islam to his younger brother. The Chechen jihadis are some very ruthless sob's, the internet is full of pictures and videos of Russian soldiers executed by decapitation, the Beslan massacre and a host of other horrors.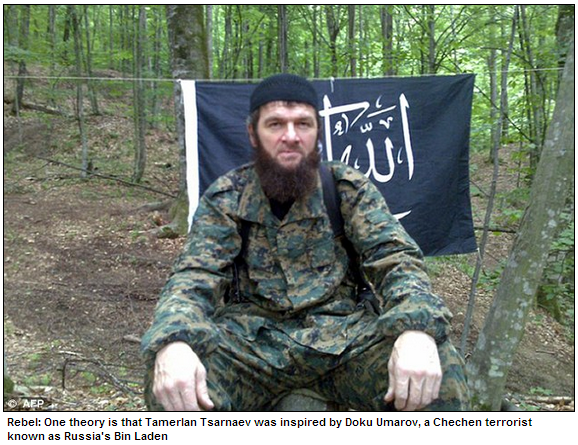 Was Boston bomber inspired by Russia's Bin Laden? FBI tracked older brother 'for FIVE YEARS' after being told by Moscow of links to Chechen terrorists
Russian intelligence services warned agency about Tamerlan Tsarnaev

Convinced he was in 'direct contact' with Islamist militants


May have been inspired by Chechen rebel leader man known as Russia's Bin Landen – Doku Umarov

Believed to be behind some of Russia's worst terrorist atrocities


But FBI later discounted Tamerlan as a threat

, despite telling his mother he was an 'extremist leader'

By IAN GALLAGHER and WILL STEWART
PUBLISHED: 23:48 GMT, 20 April 2013 | UPDATED: 04:08 GMT, 21 April 2013
One of the brothers suspected of the Boston Marathon bombings had direct contact with Chechen terrorists – and was 'monitored' by investigators for five years.
The Mail on Sunday has learned that the FBI put Tamerlan Tsarnaev, 26, under surveillance after receiving an explicit warning from the Russian intelligence services.
But despite apparently telling his mother that Tamerlan was an 'extremist' leader, the FBI eventually discounted the possibility that he was a threat.