Crooked is, as crooked does.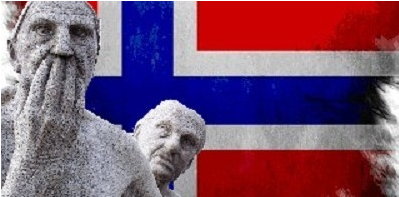 Not a word about the genocidal Hamas, nor of the incitement by the Palestinan Authority against Jews throughout all organs under it's administration, such as glorification of murderers by the Palestinian authority etc.. Not a mention of the financial black hole that still exists during his tenure, nor of his complete irresponsible behavior in overseeing the disbursing of Norwegian humanitarian aid to convicted Palestinian Arab terrorists.
There was a crooked man, and he walked a crooked mile.

He found a crooked sixpence against a crooked stile.

He bought a crooked cat, which caught a crooked mouse,

And they all lived together in a little crooked house.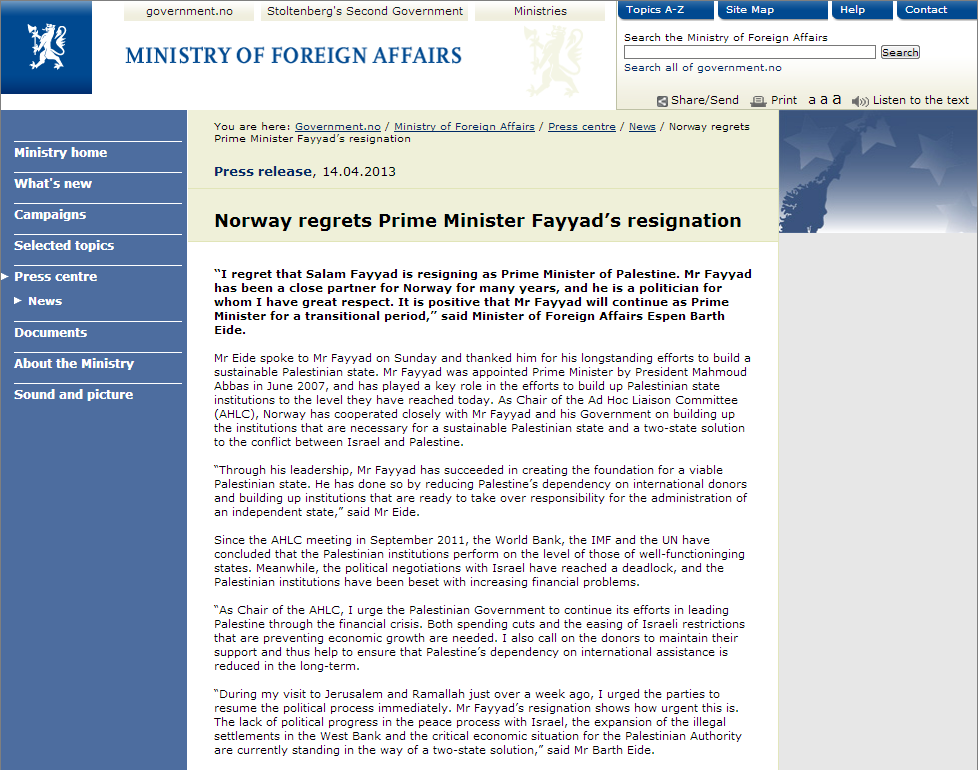 In full wide text below the fold.
MFA of Norway 2013 04 16
Press release
I regret that Salam Fayyad is resigning as Prime Minister of Palestine. Mr Fayyad has been a close partner for Norway for many years, and he is a politician for whom I have great respect. It is positive that Mr Fayyad will continue as Prime Minister for a transitional period," said Minister of Foreign Affairs Espen Barth Eide. Mr Eide spoke to Mr Fayyad on Sunday and thanked him for his longstanding efforts to build a sustainable Palestinian state. Mr Fayyad was appointed Prime Minister by President Mahmoud Abbas in June 2007, and has played a key role in the efforts to build up Palestinian state institutions to the level they have reached today.
As Chair of the Ad Hoc Liaison Committee (AHLC), Norway has cooperated closely with Mr Fayyad and his Government on building up the institutions that are necessary for a sustainable Palestinian state and a two-state solution to the conflict between Israel and Palestine.
"Through his leadership, Mr Fayyad has succeeded in creating the foundation for a viable Palestinian state. He has done so by reducing Palestine's dependency on international donors and building up institutions that are ready to take over responsibility for the administration of an independent state," said Mr Eide.
Since the AHLC meeting in September 2011, the World Bank, the IMF and the UN have concluded that the Palestinian institutions perform on the level of those of well-functioninging states. Meanwhile, the political negotiations with Israel have reached a deadlock, and the Palestinian institutions have been beset with increasing financial problems.
"As Chair of the AHLC, I urge the Palestinian Government to continue its efforts in leading Palestine through the financial crisis. Both spending cuts and the easing of Israeli restrictions that are preventing economic growth are needed. I also call on the donors to maintain their support and thus help to ensure that Palestine's dependency on international assistance is reduced in the long-term.
"During my visit to Jerusalem and Ramallah just over a week ago, I urged the parties to resume the political process immediately. Mr Fayyad's resignation shows how urgent this is. The lack of political progress in the peace process with Israel, the expansion of the illegal settlements in the West Bank and the critical economic situation for the Palestinian Authority are currently standing in the way of a two-state solution," said Mr Barth Eide.