[NOTE: Welcome Jewish Press readers, just make sure the next time you read a piece by Sinem Tezyapar, ask yourself why she seems to have no problem whatsoever about lying to you, or of her support of imprisoning the pianist for insulting Islam. Keep a keep a barf bucket near by when reading the turgid nonsense by this pimp for the OIC.]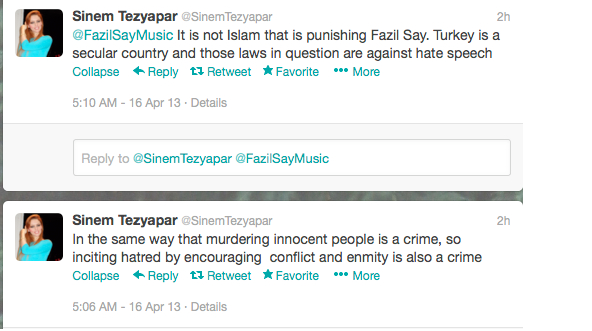 It's amazingly clear to me that these supposed "moderate" adherents to Islam are simply not up to the task of speaking the truth about their belief system, and I refuse to play along with it. If they won't play straight, then we have to drag them to it, kicking and screaming.
Latest outrage by Sinem Tezyapar: 
The use of the concept of "jihad" for acts of aggression against innocent people is a great distortion of the true meaning of the term. Jihad—meaning to strive, to show an effort—is about telling people about Islam with knowledge, culture, love, affection and compassion; and to tell people the truth kindly, to treat them warmly, to respect their ideas, not to be ruthless toward them or shed blood, kill or hurt people or kill oneself.

ACTION ALERT by Lisa Michelle: The following article by Sinem Tezyapar, which was published by The Jewish Press, is a piece of utter journalistic negligence on the part of its editors and is the final straw! Please express your outrage and share my comments.
Yet, Sinem is merely the messenger. The true voice and conductor behind the messenger is Adnar Oktar, who is virulent anti-Semite and Holocaust denier with an agenda all his own and who has plans to unite Islam with Turkey: a new and better Ottoman Empire perhaps?
(See http://tiny.cc/qncwvw for details about Oktar and his plans; also see MEMRI Video at http://tiny.cc/nqcwvw and http://tiny.cc/kscwvw for Oktar's plans for a Turkish-Islamic Union).
Sinem Tezyapar, the author of this article, dishonors the victims and their families of the Boston Marathon Bombing by passing off the very real threat of terrorism and Jihad as an individual act of "sickness" and psychosis. She then goes on to reduce the fatal threat of terrorism by comparing the act to that of the person who perpetrated the Sandy Hook massacre. This is known as Taqiyya (lying that is condoned by and promoted by Islamic decree. The Jewish Press is complicit in propagating this dangerously false narrative and whitewashing the ideologies inherent in the Koran.
(See http://tiny.cc/jwcwvw for oped by Daniel Pinner, which discredits some of Sinem's claims about the Koran; also see http://tiny.cc/60cwvw by Andrew Bostom, who is an expert and author of several books on the subject; and an article by Pamela Geller about Sinem whitewashing Jewish hatred by Islam at http://tiny.cc/63cwvw).
We are in the information battle of our lives. Oktar and his harem, which includes Sinem, only propagate these lies in Jewish/pro-Israel social network groups and publications. Yet, we are not the ones who need to be convinced that the world would be a far better place with peace and love, and this kind of crap would never hold water in Muslim circles. If Sinem and Oktar were sincere, they would be placing their efforts in raising awareness among their own–not in Jewish/pro-Israel circles–and calling attention to the hatred that is indeed inherent in the Koran and Hadith. Nor would they whitewash the truth. Change cannot occur when it's based on lies. It can only be achieved when we take a cold and hard look at the facts and the truth.
Please bombard the editors of The Jewish Press through emails, comments under the Website article and on its Facebook page, Tweets, and any other social networking means at your disposal.
A Muslim Perspective: Boston's Tragedy Must Not Generate More Hate
I also would like to strongly criticize those who express joy at the sight of horror in America.