They are only dooming themselves.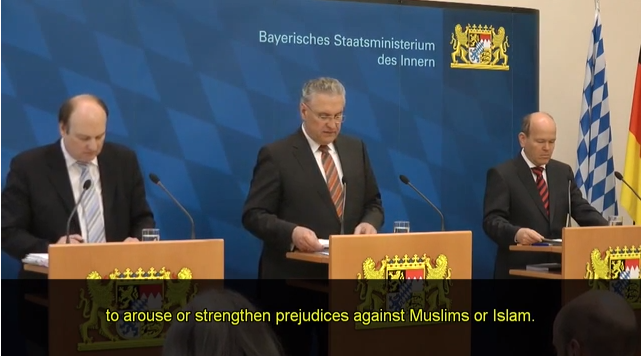 Germany Cracks Down on Critics of Mega-Mosque
by Soeren Kern
April 16, 2013 at 5:00 am
"Our work of information is not oriented against Muslims, but against the political ideology of Islam. Muslims are its first victims, most of all women." — Politically Incorrect
The Bavarian branch of Germany's domestic intelligence agency, the Bundesamt für Verfassungsschutz (BfV), has placed under state surveillance German activists accused of fomenting hate against Muslims due to their opposition to the construction of a mega-mosque in Munich.
The move to silence critics of the mosque for being "unconstitutional" was announced by Bavarian Interior Minister Joachim Herrmann in a press conference on April 12, and represents an unprecedented threat to the exercise of free speech in post-reunification Germany.
Herrmann made the announcement while presenting an annual report about threats to democratic order in Germany. A seven-minute video of the press conference with subtitles in English can be viewed here.
Herrmann singled out a citizen's movement called Die Freiheit Bayern (Freedom Bavaria), as well as the Munich branch of a highly popular free speech blog called Politically Incorrect (PI), which focuses on topics related to immigration, multiculturalism and Islam in Germany.
Both groups have been drawing public attention to plans to build a massive mosque complex known as the Center for Islam in Europe-Munich (ZIE-M). The 6,000 m² (65,000 ft²) project, which will cost an estimated €40 million ($51 million), is designed to be a key strategic platform for spreading Islam throughout Europe.
Speculation is rife that the Persian Gulf Emirate of Qatar — which is building Wahhabi mega-mosques at a breakneck pace across Europe — will be financing the project in Munich.