UPDATE: Perps are now reported to be Chechen males, one dead and the other surrounded with two more possibly detained trying to get into Canada.
What gives?
Sounds like to me that there was some level of involvement by the guy, you're either totally innocent, and you get to stay, or you've got some connection here. You can't have it both ways. This is very suspicious, just as it was when a whole cadre of Saudis were cut loose just after 9/11. (Picture by way of Donny Kligman)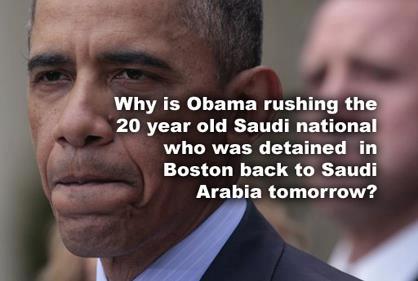 Steven Emerson of the Investigative Project revealed on Hannity's Wednesday evening cable show that an official at ICE told him the Saudi national first questioned by authorities about the deadly bombings at the Boston Marathon on Monday is set to be deported.
"Remember the Saudi that they had arrested or at least initially detained?" Emerson asked. "It was determined that he had no involvement and they made a statement about it to that effect? Well, I just learned from my own sources he's now going to be deported on national security grounds Tuesday," Emerson said, later adding, "This is the way things are done with Saudi Arabia. You don't arrest their citizens. You deport them, because they don't want them to be embarrassed."
It is not known if this individual is a material witness, but questions remain as to whether or not the Saudi National, who was on a student visa, gave authorities any information to lead them to the suspects they are looking at now.