Brainwashing like they've never brainwashed before……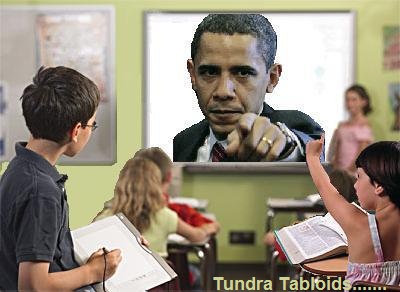 New Science Standards Put Global Warming at Core of Curriculum
One doesn't need to be a global-warming skeptic to be appalled by a new set of national K–12 science standards. Those standards, developed by educrats and science administrators, and likely to be adopted initially by up to two dozen states, put the study of global warming and other ways that humans are destroying life as we know it at the very core of science education. This is a political choice, not a scientific one. But the standards are equally troubling in their embrace of the nostrums of progressive pedagogy.
Students educated under the Next Generation Science Standards will begin their lifelong attention to climate change as soon as they enter school. Kindergartners will be expected to "use tools and materials to design and build a structure that will reduce the warming effect of sunlight on an area" (perhaps this is what used to be known as "building a fort") and "develop understanding of patterns and variations in local weather and the purpose of weather forecasting to prepare for, and respond to, severe weather." Things get even scarier by the third grade, when students should be asking such questions as: "How can the impact of weather-related hazards be reduced?"
The standards don't mention protesting the Keystone pipeline as a possible "real-world" answer to the question of how to reduce "weather-related hazards," but rest assured that the graduates of America's left-wing education schools will not hesitate to include such hands-on learning experiences in their global-warming-politics — oops, make that "science" — classes. By high school, students are squarely in the world of environmental policy-making, expected to "evaluate a solution to a complex real-world problem based on prioritized criteria and trade-offs that account for a range of constraints, including cost, safety, reliability, and aesthetics, as well as possible social, cultural, and environmental impacts."
Hard as it may be for the groups such the Alliance for Climate Education, a purveyor of climate-change school programs and — surprise! — an enthusiastic backer of the new standards, there really are other important areas of knowledge and concern. As long as we're picking and choosing among scientific problems, why not start kindergartners thinking about cell mutation or neural pathways so they can fight cancer and Alzheimer's disease when they grow up?