Get rid of this European court of jesters.
When you can't even deport foreign rapists, what does that tell you about their brand of "justice"? We should then transport the rapist to live right next door to these very same judges, as well as giving him a job as a janitor in the school where their children are learning. Let them live with their own decision making.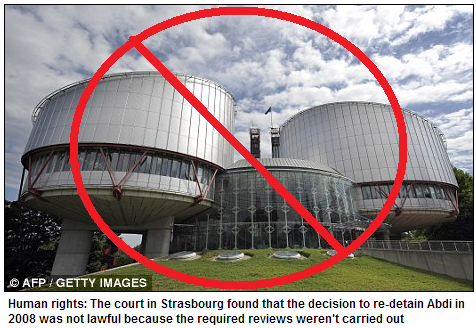 Somali child rapist we can't deport is £7,000 – and released back on to the streets: You've guessed it… locking him up is a 'breach of his human rights'
Mustafa Abdi was jailed in 1998 for rape and indecency with a child

Somali was later detained for two and a half years as he awaited deportation

This breached his right to liberty, European Court of Human Rights found

UK Government ordered to pay more than £7,000 in damages and legal costs
A Somali paedophile has been given thousands of pounds by a human rights court – and released on to the streets.
Ministers have spent more than a decade trying and failing to deport Mustafa Abdi, who is thought to have cost taxpayers more than £600,000 in jail costs and legal aid.
But yesterday Strasbourg judges ordered the British government to pay the convicted child rapist thousands of pounds in damages and legal costs.