Lurch is such a moron.
This is the kind of buffoonish politicians and bureaucrats we have in the White House and in the U.S. government nowadays. Complete out-of'-their-depth imbeciles.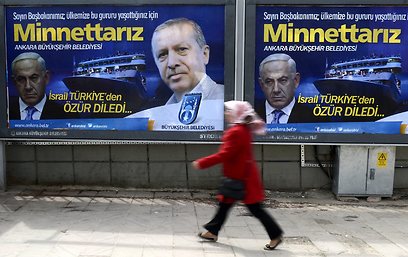 "Israel apologized to Turkey," begins the billboard. "Dear prime minister, we are grateful that you let our country experience this pride."
Claim of Turkish 'sensitivity' astonishes Israelis
By HERB KEINON 04/08/2013 02:05
US Secretary of State John Kerry and Turkish PM Tayyip Erdogan in Istanbul, April 7, 2013. Photo: Reuters
Israeli officials expressed astonishment on Sunday that US Secretary of State John Kerry praised Turkey for responding "sensitively" and without triumphalism to Israel's apology for the Mavi Marmara incident.
"They have taken steps to try to prevent any sense of triumphalism," Kerry said at a press conference on Sunday with Turkish Foreign Minister Ahmet Davutoglu. "It has not come from the government. In fact, there has been limited response by the government itself and I think it's important for everybody to take note of that."
"What country is he talking about?" one Israeli official responded. "I'm afraid the State Department did not show the secretary of state the press reports from Turkey following the apology."