Sadly this is an almost everyday occurrence.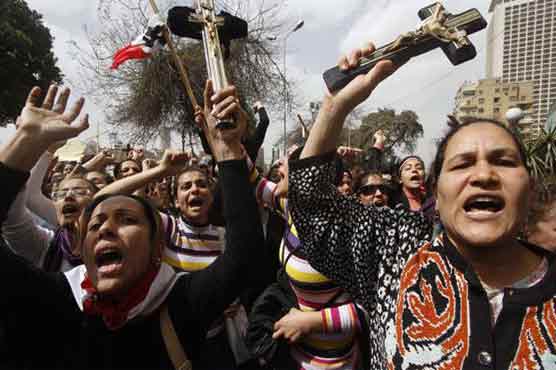 7 Copts, 1 Muslim killed in brawl in Egypt
Xinhua, April 6, 2013
Seven Copts and one Muslim were killed Saturday in clashes between two families in northeastern Egypt, state-run Ahram Online reported.
Twenty others from the two families, including 17 Copts and three Muslims, were injured in the incident in the Qanater el- Khiriah district, Qalyubiya governorate, some 40 km from the capital Cairo.
The quarrel started Friday night when some Muslim students saw some Copts were drawing a crucifix on the front wall of a Muslim religious institute, an eye witness told Xinhua.
However, a security source said the drawings have no relation to Christian cross, asserting it was a normal painting by Muslims on the school wall during a game.
Fifteen people were arrested on the fighting scene, the source said, adding that the security forces managed to stop some Muslims from setting fire to the house of a Copt accused of killing the Muslim.
A nearby Evangelical Church and a nursery annexed to it were set ablaze during the quarrel, Soryal Yonan, an archpriest of Mar Girigis Church, which was closed to avoid any assaults.
Yonan also warned of sectarian sedition, as some Muslim preachers used the neighboring mosque's speakers to demand Muslim gun holders get out of their houses and dozens from both sides were gathering outside the church.