And all of this has no negative consequences according to the high priests of multiculturalism, none whatsoever, regardless of Islam's historical record filled with carnage and totalitarianism.
H/T: Fjordman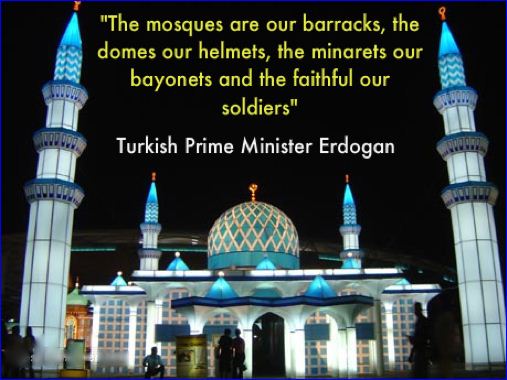 Also be sure to read: Ireland to Build One of Europe's Largest Mosques (H/T: Scottish Infidel)
Europe: Mosque Building Shifts into High Gear
"In Spain there are signs that Islam will dominate once again." — Hizrat Mirza Masroor Ahmad, Spiritual Leader, Ahmadiyya Community, Spain
From Belgium to Greece and Spain to Germany, 2013 is shaping up to be another banner year for the construction of mosques in Europe.
In Belgium, work is about to begin on the construction of a mega-mosque in Liège, the third-largest city in the country. The largest mosque in Wallonia (the French-speaking region of Belgium) will be built on an 11,000 m² (118,000 ft²) plot and will consist of a main building with a capacity for 1,000 worshippers, a library, a cafeteria and several shops.
Plans to build two 30 m (98 ft) minarets were scrapped after opposition from local residents. The new plan involves one 18 m (60 ft) minaret which will be automatically illuminated during calls to prayer.
The mayor of Liège, Willy Demeyer (PS), banned a protest march against the mosque that was to have been held on March 30. "My role is to avoid excesses and problems of public order," he said.
In Germany, Muslims in the northern city of Hamburg are converting the former Kapernaumkirche (Capernaum Church), a cultural heritage site, into a mosque.