Revolting.
This is what I try to impress upon my readers, that Islam, by default, will seek to impose its mores and values upon the non-believers of society. Jews, Vegans, Hindus and others with certain dietary requirements fly Qantas airlines, but its only Muslims who manage to dictate what others will eat. This is sharia compliant behavior, exactly the thing we all have been warning about, and what 'cultural elite' suggests doesn't exist or to turn a blind eye to.
NOTE: It's all about respecting them, and never about the non-Muslim
H/T: Fjordman via Jihad Watch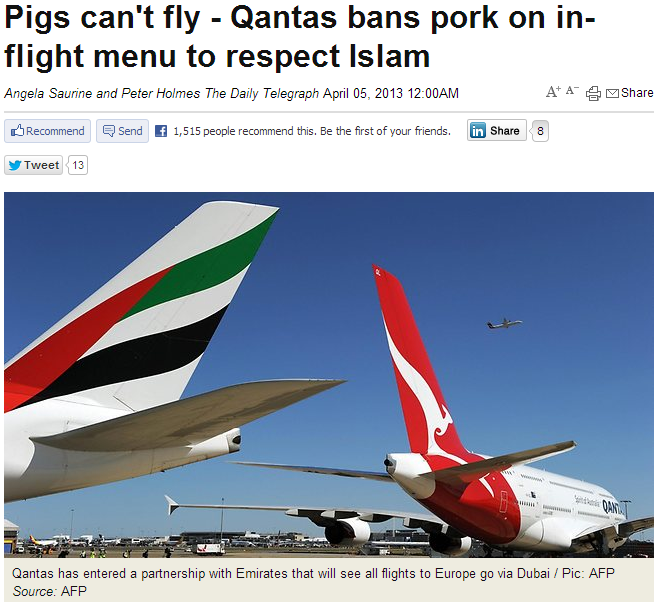 QANTAS has removed pork from its in-flight menu on flights to and from Europe as a result of its partnership with Middle Eastern airline Emirates.
No food containing pork or pork products will be served on those flights – which now has a stopover in Dubai – because it is strictly forbidden in Islam and is considered "unholy".
All meals offered on the route in first, business and economy classes will also be prepared without alcohol in keeping with the Islamic religion. A note on the Qantas menus on flights in and out of Dubai states that the meals do not contain pork products or alcohol. The airline has also introduced a mezze plate offering traditional Middle Eastern fare in its upper classes and has Arabic translations after in-flight announcements.
A Qantas spokesman said the decision to remove pork, ham and other related food items had had minimal impact on its menu and it was still offering the same meal choices.
"Qantas in-flight catering often reflects the cultural and regional influences of the international destinations we fly to," he said.
"On flights to and from Hong Kong and China, our menus include regionally inspired dishes such as stir fries and to Singapore we have noodle options."
Qantas also offers meals without pork and alcohol on flights to the Indonesian capital Jakarta, which also has a large Muslim population.
Several other airlines which fly from Australia to the United Arab Emirates and Malaysia do not serve pork either.
Virgin Australia does not serve pork on flights to and from Abu Dhabi and all meals that are prepared are halal accredited, with meat prepared in a way prescribed by Islamic law.