You got to be kidding me.
With Nelson Mandela in jail, it fell to Tutu to steer the struggle against institutionalized racial oppression in a nonviolent direction. From his church in segregated Soweto, Tutu urged the imposition of economic sanctions against the white government. Since then, Tutu's face has become the symbol of tolerance and goodness.

However, the Archbishop's iconic voice has also found another cause no less popular: The global campaign against Israel and the Jewish people. Tutu just promoted an appeal to the US pension fund of the Teachers Insurance and Annuity Association for cutting the partnership with Israeli companies. He also helped the Australian Marrickville Council approve a boycott of Israel's goods.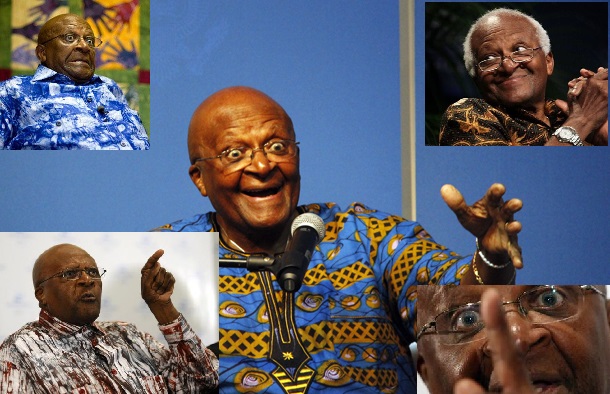 NOTE: What rational minded person or group of people would want to hand this racist douche-bag a pile of money?
Archbishop Desmond Tutu wins £1.1m Templeton Prize
Archbishop Desmond Tutu has won the £1.1m ($1.6m) Templeton Prize for "affirming life's spiritual dimension".
Organisers said he was awarded the 2013 prize for his lifelong work advancing spiritual principles such as love and forgiveness that have helped to liberate people around the world.
The former Anglican archbishop of Cape Town joins a distinguished group of 42 previous recipients.
Archbishop Tutu will receive the prize at the Guildhall in London on 21 May.
More here. H/T: JH