In Hamastan run Gaza, nothing happens without the thugs-in-power knowing about it.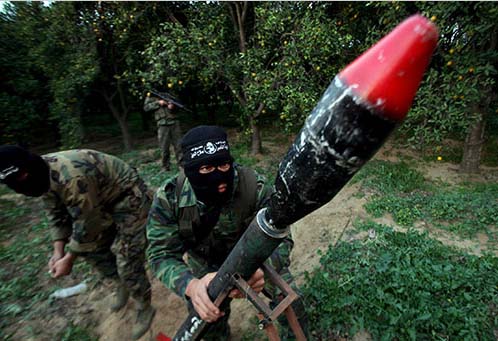 Earlier on Tuesday, a Palestinian mortar fired at Israel failed to cross the border, and fell inside the Gaza Strip.
2 rockets pound Sderot area as tensions rise on Gaza front
Projectiles fired into southern Israel for second straight day; IAF strikes targets in Gaza Strip for first time since truce that ended Operation Pillar of Defense in November; Ya'alon: We won't allow drizzle of rockets.
A policewoman looks at the damage after a rocket fired from Gaza lands in Sderot, March, 21, 2013
Photo: REUTERS/Amir Cohen
Two rockets fired from the Gaza Strip into southern Israel landed in open areas near Sderot on Wednesday morning, raising fears that violence could escalate in the area after months of relative quiet.
No injuries or damage were reported in the attacks.
The rockets struck just as parents were dropping off children at schools and kindergartens. The attacks triggered sirens and sent families fleeing for cover.
The rocket attacks came after the IAF launched airstrikes on Gaza on Tuesday just prior to midnight, the first such operation since a truce ended an eight-day cross-border war in November.
"Occupation planes bombarded an open area in northern Gaza, there were no wounded," a statement from the Hamas Interior Ministry said. The IDF confirmed that it had launched airstrikes on two terror targets in northern Gaza and recorded direct hits.
The airstrike followed the firing of a Palestinian projectile from Gaza  which exploded in southern Israel's Eshkol region on Tuesday. The explosion occurred in an open area, and did not cause any injuries.