They're crying foul for being outed, no regrets for posting it.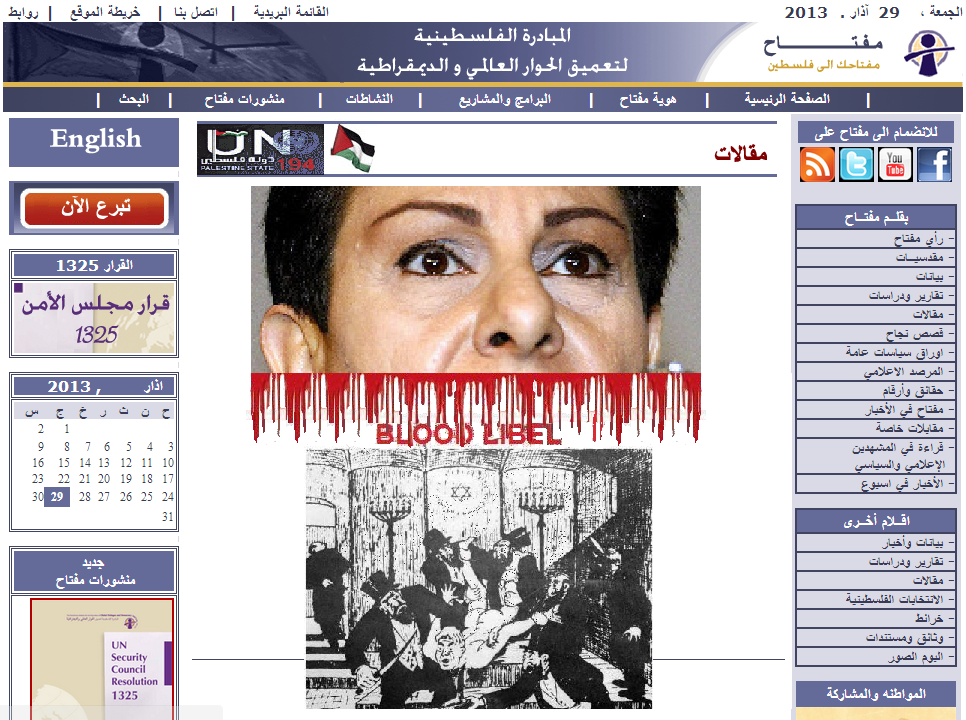 Miftah attacks me, refuses to condemn its blood libel
Miftah has responded to my exposé of their anti-semitic article last week: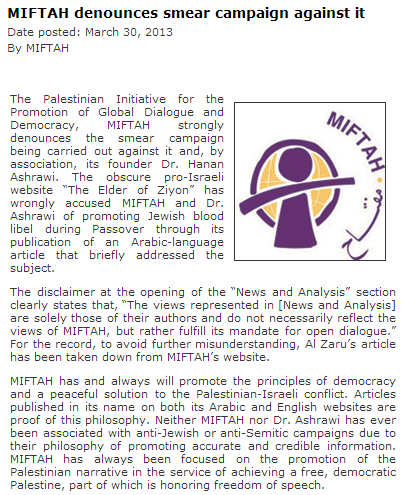 It is in this spirit that MIFTAH is deeply disturbed by this recent slander campaign against it. Not only is the premise of their argument erroneous in characterizing MIFTAH and Dr. Ashrawi, but the underlying purpose of sabotaging MIFTAH's reputation with its international partners is nothing short of abhorrent.

MIFTAH has been in existence for well over decade and has published countless articles on Palestine, which show its true colors. It is fair to say that its work speaks for itself.
This is truly amazing.
The reason they took the article down wasn't because of its pure hate, its slander against an entire people, its invocation of the worst of all historic anti-semitic canards. The reason is "to avoid further misunderstanding."
Let's be clear: An editor at Miftah, an NGO dedicated supposedly to principles of democracy and peace,  saw this article and decided – according to Miftah's own words here – that  the classic blood libel against Jews is a legitimate part of "its mandate for open dialogue."
Fully half of the article talks about the blood libel. It didn't "briefly address the subject," as Miftah's ridiculous attack on me suggests – it was the linchpin of the entire article, asking how President Obama could possibly support Israel and have a Passover Seder at the White House in light of the "fact' that Jews drink Christian blood on Passover. In no way was it only "briefly mentioned." In no possible way was this an oversight.
And yet, even after publishing this, Miftah claims that "Neither MIFTAH nor Dr. Ashrawi has ever been associated with anti-Jewish or anti-Semitic campaigns due to their philosophy of promoting accurate and credible information."
In other words – Miftah does not denounce the article, and does not even say that it is inaccurate today!Miftah refuses to condemn it, it will not call it anti-semitic, it indignantly will not apologize for publishing it, it will not denounce the prominent Jordanian author of the piece, it will not say that it will change its policies on accepting articles – but instead it accuses me of "slander"!